EEOC postpones 2022 EEO-1 data reporting deadline to fall
Posted July 7, 2023
The Equal Employment Opportunity Commission (EEOC) recently announced that it has postponed the due date by which employers must submit their 2022 EEO-1 data reporting. The new deadline is expected to be in Fall 2023.
Previously, the EEOC had said that the 2022 EEO-1 Component 1 data collection was scheduled to open in mid-July. And prior to that, it was expected to open in April.
The EEOC explained the postponement on its website saying, "The EEOC is currently completing a mandatory, three-year renewal of the EEO-1 Component 1 data collection by the Office of Management and Budget (OMB) under the Paperwork Reduction Act (PRA). Accordingly, the EEOC has updated the tentative opening of the 2022 EEO-1 Component 1 data collection to the Fall of 2023."
The EEOC also indicates that all updates about the 2022 data collection, including the final opening date and opening of the Filer Support Message Center (the online tool employers must use), will be posted on their website in the coming weeks.
Which employers are affected?
All private sector employers with 100 or more employees, and federal contractors with 50 or more employees meeting certain criteria, are mandated to annually collect and submit demographic workforce data to the EEOC, including data by:
Race/ethnicity,
Sex, and
Job categories.
There are certain exemptions. For example, local and state governments, as well as public schools are exempt.
What should employers do?
While employers might feel frustrated by the changing due dates, it does allow more time to prepare.
In addition to fulfilling a government requirement, the data collected can be a helpful tool for employers looking to assess their company's diversity efforts.
This article was written by Michelle Higgins of J. J. Keller & Associates, Inc.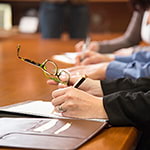 Looking for more on HR compliance?
Get the information and products you need to stay on top of industry changes and comply with regs.