U.S. Supreme Court refuses to consider California AB 5 case – motor carrier injunction to be lifted
Posted July 7, 2022
The U.S. Supreme Court announced on June 30 that it will not hear the California Trucking Association (CTA) case about the state's independent contractor employment law known as Assembly Bill 5 (AB 5).
This means that the U.S. Court of Appeals for the Ninth Circuit's ruling stands, and the injunction that's been in place for about the past two years will be lifted soon – possibly within days.
The decision by the Court essentially upends the model with owner-operators and their trucks leased to motor carriers that do business in California.
In preparation, however, many interstate carriers have already changed their contractor business model in California to avoid issues.
When will AB 5 be enforced against carriers?
Enforcement is retroactive to the effective date of AB 5, which was January 1, 2020.
However, on January 14, 2021, the California Supreme Court ruled that AB 5 should be applied even before the law technically went into effect. This decision was worrisome for motor carriers with pending litigation.
Independent contractor cases that have been gathering dust as they slowly make their way through the courts now tip more in a plaintiff's (contractor's) favor. This applies even to cases before the highly publicized Dynamex case. In April 2018, the California Supreme Court issued a unanimous decision in Dynamex Operations West, Inc. v. Superior Court of Los Angeles when it ruled in favor of the "ABC" test.
What is AB 5?
The California law (AB 5) went into effect January 1, 2020, and made it harder for employers to claim that workers are independent contractors.
Under AB 5, a worker is assumed to be an employee and not an independent contractor unless:
The person is free from the control and direction of the hiring entity in connection with the performance of the work,
The person performs work that is outside the usual course of the hiring entity's business, and
The person is customarily engaged in an independently established trade, occupation, or business.
These three prongs together are referred to as the "ABC" test. And it's the "B" prong of the test that is troublesome for motor carriers because leased contract drivers are in the same business as motor carriers (i.e., violating the "B" prong).
This matters because if drivers are employees of a carrier (and not contractors) then they're eligible for significant benefits like minimum wage, overtime pay, unemployment, etc.
What's next for carriers?
Motor carriers heavily rely on owner-operators to haul freight – especially to and from California ports. Since the U.S. Supreme Court didn't take the CTA's case, then it's likely that independent truck drivers would become employees of a motor carrier.
Improperly classifying drivers can be a costly mistake for motor carriers. In addition to penalties that may be assessed for wage violations associated with a driver being misclassified as an independent contractor, there are civil penalties for willful misclassification.
Motor carriers with facilities around the country must remember that workers may be considered employees and have protections under California law, even if they are determined not to be employees under federal law. This is because the tests used to determine employee status under California law differ from the tests used under federal law, like the Fair Labor Standards Act (FLSA).
What about other employers?
Although AB 5 doesn't overlap with federal employment laws, employers across the rest of the country must look at how other entities define who is (or is not) an independent contractor.
The U.S. Department of Labor's (DOL) Wage and Hour Division (WHD) recently announced it plans to issue a notice of proposed rulemaking to clarify the roles of independent contractors and employees. So, AB 5 or not, properly classifying workers as independent contractors or employees is a hot topic nationwide.
This article was written by Michelle Higgins of J. J. Keller & Associates, Inc.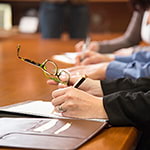 Looking for more on HR compliance?
Get the information and products you need to stay on top of industry changes and comply with regs.