OSHA temp worker bulletin focuses on responsibilities for heat exposure control
Posted July 29, 2022
OSHA's latest Temporary Worker Initiative (TWI) bulletin focuses on responsibilities for host employers and staffing agencies with temporary workers exposed to heat-related hazards.
The host employer has the primary responsibility of:
developing a Heat Illness and Injury Program for the worksite,
providing cool water and cool, shaded areas for rest, and
training and implementing acclimatization procedures for new workers, including temporary workers and returning workers.
The staffing agency has an obligation to review the host employer's worksite policies and procedures to control heat hazards prior to assigning workers.
OSHA says both the host employer and the staffing agency should familiarize themselves with tools such as the OSHA-NIOSH Heat Safety Tool App that permit regular evaluation of workplace heat hazards at their worksite for determining local forecasts and current heat index.
This article was written by Rachel Krubsack of J. J. Keller & Associates, Inc.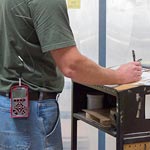 Looking for more on workplace safety?
Get the information and products you need to stay on top of industry changes and comply with regs.