Is your ELD system reliant on 3G?
Posted July 7, 2022
Major cellular carriers began phasing out 3G cellular connectivity in February of this year and all 3G connectivity is expected to be sunset by the end of 2022. AT&T, Sprint, and T-Mobile have already completed their 3G phase outs. Verizon intends to complete its phase out by December 31. Also, the Sprint 4LTE network is being shut down as a result of its merger with T-Mobile, as of June 30, 2022.
If your electronic logging devices (ELDs) rely on 3G or a 4LTE network that has been shut down to function or to transfer logs to officers, your devices will be considered as malfunctioning once your cellular provider phases out their 3G or 4LTE network. Under §395.34, you then have eight days to repair or replace the devices, unless you apply for and receive an extension. During this period (the eight days plus extension time, if granted), your drivers will be allowed to use paper logs.
If the 3G or 4LTE in your ELD system is only used for communicating with the back office, this may not create a malfunction or violation. Having constant communications to the back office is not required by the regulations. What is required by the regulation is:
The ELD must capture an accurate log,
The driver must submit the log within 13 days, and
The device must be able to provide the logs to officers during an inspection.
The driver's ability to submit logs may be affected if the 3G or the affected 4LTE network is used for communications. However, for the time being the driver is likely to find a functioning 3G area sometime during the 13 days to submit the logs, and all other 4LTE networks are function, so you are not likely to see violations for logs not being submitted.
The system's ability to have the driver's previous logs follow the driver when the driver changes vehicles may also be affected. In some systems, when the driver logs into a new device in a different vehicle, the system sends the previous records through the cellular network to the driver's new device. If this is how the system functions and the driver is in an area that has lost its 3G or 4LTE access, the driver's device will not be able to "fetch" the previous logs until the driver moves to a location that has functioning 3G or 4LTE.
To see how the 3G changeover or the Sprint 4LTE shutdown will affect your system, it would be best to contact the tech support group at your vendor.
This article was written by Tom Bray of J. J. Keller & Associates, Inc.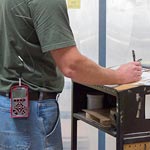 Looking for more on workplace safety?
Get the information and products you need to stay on top of industry changes and comply with regs.