EPA finalizes hazard communication requirements for Significant New Use Rules
Posted July 15, 2022
EPA has issued a final rule amending its requirements for Significant New Use Rules (SNURs). SNURs can be used to require notice to EPA before chemical substances and mixtures are used in new ways that might create concerns. EPA says the amendment strengthens requirements that ensure workers have access to clear and consistent information about the risks they face from toxic substances. The rule takes effect September 6.
The amendments include:
The alignment of EPA's rules for toxic substances' labels with OSHA's rules for safety data sheets (29 CFR 1910.1200) and other materials, ensuring that hazard statements and precautionary statements are used consistently throughout hazard communications.
Provisions to strengthen EPA's requirements that companies educate workers on risks and on the effective use of any required personal protective equipment (PPE).
Provisions that make it easy for EPA to issue new chemical SNURs that require manufacturers to notify EPA if they intend to use a substance without considering and implementing engineering controls where feasible. Upon receipt of a notice, EPA will then review the use to determine the potential for unreasonable risks to human health and the environment and ensure any needed protections are put in place before that use can commence.
The amendments to 40 CFR Part 721 were first proposed in July 2016. They were re-initiated in 2021 as a part of ongoing efforts to implement policies and regulations that better align EPA's new chemicals program with the amended Toxic Substances Control Act (TSCA).
This article was written by Rachel Krubsack of J. J. Keller & Associates, Inc.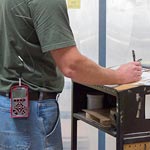 Looking for more on workplace safety?
Get the information and products you need to stay on top of industry changes and comply with regs.