OSHA publishes COVID-19 FAQs for employers, employees
Posted July 7, 2020
OSHA has published FAQs to help protect workers from exposure to the coronavirus. The questions were developed based on inquiries the Agency has received from the public.
The FAQs do not create any new obligations for employers, but provide guidance on a variety of topics related to COVID-19:
Cleaning and disinfection,
Construction,
Cloth face coverings,
Employer requirements,
Healthcare,
Personal protective equipment (PPE),
Restrooms and handwashing facilities,
Retaliation,
Returning to work,
Testing for COVID-19,
Worker training, and
Worker protection concerns.
This article was written by Rachel Krubsack of J. J. Keller & Associates, Inc.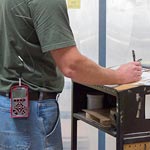 Looking for more on workplace safety?
Get the information and products you need to stay on top of industry changes and comply with regs.