FMCSA seeking revisions in ag, livestock definitions for HOS
Posted July 24, 2019
The Federal Motor Carrier Safety Administration (FMCSA) announced it is seeking public comment on revising agricultural commodity or livestock definitions in the hours-of-service (HOS) regulations.
Under current rules, during harvesting and planting seasons in each state, drivers transporting agricultural commodities including livestock are exempt from the HOS requirements when driving from the source of the commodities to a location within a 150-air-mile radius from the source.
FMSCA issued an advanced notice of proposed rulemaking (ANPRM) after indications that the current definition of these terms may not be understood or consistently enforced when determining whether the HOS exemption applies.
In June 2018, FMCSA announced regulatory guidance for the transportation of agricultural commodities but did not address the meaning of the term "agricultural commodity." More recently, the agency began using an updated definition for "livestock" as adopted by Congress in December 2018. The current definition includes "cattle, elk, reindeer, bison, horses, deer, sheep, goats, swine, poultry (including egg-production poultry), llamas, alpacas, live fish, crawfish, and other animals that are part of a foundation herd … or offspring or are purchased as part of a normal operation and not to obtain additional benefits [under law]."
Both houses of Congress have proposed bills within the calendar year to expand the agricultural commodity definition, though no action has yet been taken.
The public will have 60 days to comment on the ANPRM upon publication in the Federal Register. Comments will be accepted at the Federal eRulemaking Portal at Docket No. FMCSA-2018-0348.
---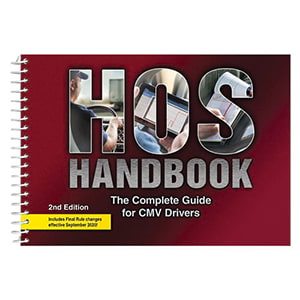 J. J. Keller's HOS Handbook: The Complete Guide for CMV Drivers - 2nd Edition provides the who, what, when, where, why, and how-to of Hours of Service for drivers.
---
J. J. Keller's FREE Transport SafetyClicks™ email newsletter brings quick-read safety and compliance news right to your email box.