FMCSA proposal expands flexibility for CDL applicants
Posted July 26, 2019
The Federal Motor Carrier Safety Administration (FMCSA) announced a proposed rule that would allow commercial driver's license (CDL) applicants to take general and specialized knowledge tests in a state other than the applicant's state of residence.
FMCSA said the proposed rule would reduce travel costs and time delays to obtain CDLs. The proposed changes are optional for the states — they will not be required to offer testing for out-of-state applicants. However, if a state elects to test an out-of-state CDL applicant, the applicant's state of residence would be required to accept the results.
Reducing regulatory challenges for CDL applicants has been a focus for FMCSA this calendar year.
In March, FMCSA authored a final rule streamlining the process and reducing costs to upgrade from a Class B to a Class A CDL. FMCSA said the rule will save eligible driver trainees and motor carriers $18 million annually.
In June, FMCA published a deregulatory proposal to streamline and simplify the process by which states are currently required to conduct skill tests for individuals seeking to obtain a CDL.
The latest proposed rule will have a 60-day comment period upon publication in the Federal Register. Comments can be submitted through the federal eRulemaking portal, under Docket No. FMCSA-2018-0332.
---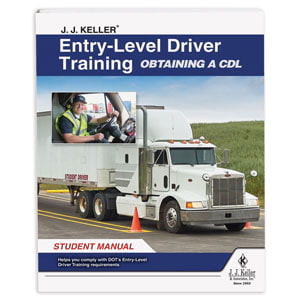 J. J. Keller's Entry-Level Driver Training Manual: Obtaining a CDL teaches students the basics of safe driving techniques and complies with FMCSA's new entry-level driver training rule.
---
J. J. Keller's FREE Transport SafetyClicks™ email newsletter brings quick-read safety and compliance news right to your email box.