FMCSA accepting comments on CDL skills test proposal
Posted July 10, 2019
As announced on July 1, the Federal Motor Carrier Safety Administration (FMCSA) is officially seeking public comments about a proposal that would presumably shorten the wait to obtain a commercial driver's license (CDL).
The FMCSA is proposing a rule to allow states to permit a third-party skills test examiner to administer CDL skills tests to applicants to whom the examiner has also provided skills training. This practice is currently prohibited under FMCSA rules.
The FMCSA said this option could help alleviate CDL skill testing delays and reduce inconveniences and costs for third-party testers and CDL applicants without negatively impacting safety.
Section 383.75(a)(7) of the Federal Motor Carrier Safety Regulations prohibits a third-party skills test examiner who is also a skills instructor from administering the CDL skills test to an applicant who received skills training from that examiner.
Comments can be submitted at the federal eRulemaking portal regulations.gov under docket number FMCSA-2018-0292. The deadline for submitting comments is September 9, 2019.
---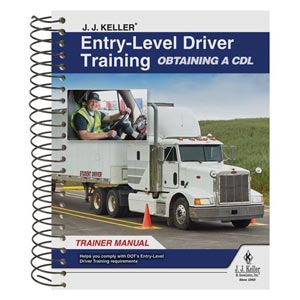 J. J. Keller® Entry-Level Driver Training Obtaining a CDL Trainer Manual helps trainers ensure student drivers understand the fundamentals of safe, professional driving and compliance.
---
J. J. Keller's FREE Transport SafetyClicks™ email newsletter brings quick-read safety and compliance news right to your email box.