The trouble(s) with intermittent FMLA leave
Posted July 5, 2018
The lament of employee leave administrators across the land has long been dealing with intermittent leave, particularly when it is unforeseeable. While the federal FMLA entitles eligible employees to leave on an intermittent basis for certain reasons, handling that leave has posed its share of issues.
True, employees have rights under the FMLA, but that does not mean that employers' hands are totally tied. Here are some common intermittent leave issues and ways to manage them.
Wondering when the employee might miss work. First, review the certification to see if the employee is following what it says. If not, investigate. If the employee is taking much more leave than indicated, ask for a recertification. Also, ensure the employee follows your call-in policies and procedures.
Tracking; figuring out how much leave the employee took. While a spreadsheet can help, knowing what time to track can be a challenge. Supervisor training can go a long way in helping you determine when an employee is absent for an FMLA-qualifying reason. Some HRIS programs include accounting of FMLA leave, as well. Setting up an FMLA call-in line and including it in your call-in policies might make this task easier.
Finding ways to get the work done in the employee's absence. Cross training can help with unforeseeable absences. No one employee should be depended on to the extent that business suffers if he or she is absent. Have backups, and if a particular employee will need intermittent FMLA leave, work to get those backups ready to step in when needed. These backups could include temp employees.
Handling coworker complaints related to the extra work due to the employee's absence. Simply informing coworkers that you are complying with employment law requirements can go a long way. Compassion can reap benefits as well. You may also indicate that, if they were in the same boat, they would have some protections. Refrain, however, from sharing employee medical information.
Trying to ensure the employee is taking leave for the FMLA-qualifying reason, including those Monday/Friday absences. Ask for recertifications when you may do so, and inform the doctor that the employee has a pattern of Friday/Monday or apparent excessive absences, and ask, as part of the recertification, if this absence pattern is consistent with the condition. Add this question to the certification form, and include a record of the employee's absence pattern for the doctor's consideration in determining the employee's likely period of future absences. You may also simply include a question whether the employee's absences are limited to Mondays/Fridays. Don't, however, ask for a doctor's note for every instance of FMLA leave, but asking for recertifications can put some of the onus on the employee, and could also alert them that their absences are under scrutiny.
For these and other issues, simply talking to the employee in question might prove worthwhile. If you see discrepancies between the certification and the taking of leave, ask the employee about it. If you treat them with consideration and give them the opportunity to do what's right, there's a greater chance they will.
This article was written by Darlene M. Clabault, SHRM-CP, PHR, CLMS, of J. J. Keller & Associates, Inc.
---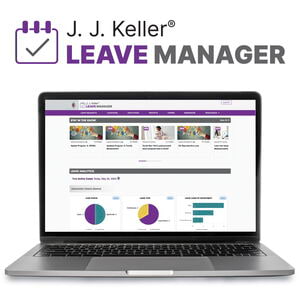 J. J. Keller® FMLA Manager™ Service makes leave tracking easier while helping you comply with the latest federal & state regulations.
---
J. J. Keller's FREE HRClicks™ email newsletter brings quick-read human resources-related news right to your email inbox.