Sometimes, employees may be fired upon return from FMLA leave
Posted July 20, 2017
Generally, an employee is entitled to return to his or her job at the end of leave under the Family and Medical Leave Act (FMLA), and employers are prohibited from retaliating against an employee for taking FMLA leave. Those rights, however, are not absolute. In some situations, an employee can face discipline, even termination, upon returning from FMLA leave.
Case in point
Enrico took FMLA leave for his own health issues. The day he returned from leave, his supervisor gave him a letter indicating he was being placed on administrative leave pending a disciplinary meeting. The letter described several instances of misconduct, including insubordination and making disparaging comments to coworkers regarding a supervisor.
The letter invited Enrico to respond to the allegations at a meeting with supervisors and others. The letter also indicated that Enrico could respond in writing, but it warned that the meeting would proceed with or without him. Enrico wrote to his supervisor that he would not attend the meeting. He did not address the accusations against him.
After the meeting, Enrico was terminated due to his infractions, and he sued.
Enrico argued that the timing of his termination and his disagreements with the official explanation were evidence that the employer retaliated against him for taking FMLA leave. He also argued that the reasons the company gave for the termination were phony and were pretext to cover up the true retaliatory motives.
The employer argued that Enrico was terminated for legitimate reasons: ignoring instructions, going over his supervisor's head, and rearranging schedules without authorization.
The court ruled that each reason in the disciplinary letter supported Enrico's termination, and the employer confirmed that he was fired for those reasons. The timing of the termination and Enrico's disagreements with the official explanation are evidence from which a jury could find that the employer retaliated against him. But suspicious timing alone is rarely enough, by itself, to prove retaliation.
Enrico needed to present other evidence that the employer's explanation for the termination was pretext for retaliation, and he did not accomplish this. Merely disagreeing with an employer's reasons for taking an action does not meet the criteria to prove pretext. Enrico needed to point to evidence that helped prove that the employer's proffered reasons were baseless, were not the actual motivation for the termination, or were insufficient to motivate. Enrico did not point to such evidence. He was fired for reasons that were unrelated to his taking of FMLA leave.
Therefore, when employees take FMLA leave, they may still be subject to discipline and termination, as long as the reasons behind the action are not related to the employee's taking of FMLA leave. In this case, the employee's insubordination was unrelated to his FMLA leave, so the employer prevailed in its arguments.
Tibbs v. Administrative Office of the Illinois Courts, 7th Circuit Court of Appeals, No. 16-1671, June 19, 2017
[Names were changed for editorial and clarity purposes]
This article was written by Darlene Clabault of J. J. Keller & Associates, Inc.
---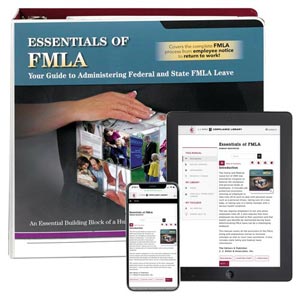 J. J. Keller's Essentials of FMLA manual helps HR pros understand and comply with the FMLA rules, control costs related to leave taken, and minimize the law's potential disruption to their organizations' operations.
---
J. J. Keller's FREE HRClicks™ email newsletter brings quick-read human resources-related news right to your email inbox.