Court rules against parts of EPA's Definition of Solid Waste Rule
Posted July 11, 2017
On July 7, 2017, the U.S. District Court for the D.C. Circuit ruled against parts of EPA's regulations addressing "sham recycling" as described in the Agency's 2015 Definition of Solid Waste (DSW) Rule. The Court upheld the other provisions in the rule. Industry groups had challenged portions of the rule that distinguished real recycling from fake recycling.
The 2015 DSW Rule was intended to close loopholes and the mismanagement of hazardous materials sent for recycling. To that end, the rule prohibited sham recycling, which is when a company claims to reuse materials, but in fact discards them. This can include the over-accumulation of hazardous secondary materials or adding unnecessary hazardous materials into final products to avoid having to comply with the hazardous waste regulations.
Court vacates portions of the Rule, says "paperwork is not alchemy"
The Court vacated portions of the DSW Rule that apply to recycling, citing the "draconian character of the procedures it imposes on recyclers." Some of those procedures included requirements to contemporaneously document how a facility's recycling was still legitimate, notify regulators of that finding, and keep documents on-site for three years after ending a recycling operation. The Court said EPA might be correct that its regulations only placed a minimal burden on recyclers, but that "paperwork is not alchemy; a legitimate product will not morph into waste if its producer fails to file a form (or loses a copy two years later)."
Return of the Transfer-Based Exclusion
In the 2015 DSW Rule, EPA replaced the Transfer-Based Exclusion with the Verified Recycler Exclusion. Under the Transfer-Based Exclusion, hazardous secondary materials were not counted as solid wastes if the company that generated the materials transferred them to an off-site recycler it had audited to ensure compliance with proper recycling practices. EPA replaced this exclusion with the Verified Recycler Exclusion, which made two significant changes. First, the exclusion required the generator to meet new emergency preparedness standards while accumulating the materials before shipping them offsite. Second, it eliminated the "reasonable efforts" option found in the Transfer-Based Exclusion, meaning generators had to send their secondary materials to recyclers who had a permit or were operating under a federal or state variance to run a third-party "reclamation facility."
The Court vacated the Verified Recycler Exclusion – except for the new emergency preparedness provisions — and replaced it with the earlier Transfer-Based Exclusion.
---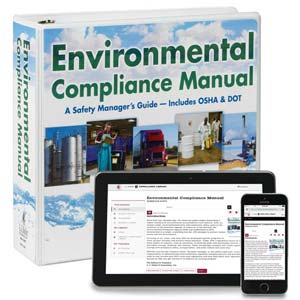 J. J. Keller's Environmental Compliance Manual is packed with easy-to-understand information on regulations, environmental issues and compliance.
---
J. J. Keller's FREE Workplace SafetyClicks™ email newsletter brings quick-read workplace safety and compliance news right to your email box.