Think of an FMLA notice for leave as an accommodation request
Posted July 8, 2016
Employers often keep employee Family and Medical Leave Act (FMLA) notices for leave separate from requests for accommodations under the Americans with Disabilities Act (ADA). Doing so, however, could undermine some opportunities to make the ADA's interactive process and determination of undue hardship easier.
Under the ADA, when an employee requests a workplace change, including asking for leave, you are required to engage in an interactive process with the employee, with a focus on identifying effective reasonable accommodations. While providing leave might help you comply with the FMLA, nothing prohibits you from addressing the need for leave as an accommodation request.
Consider the following scenario:
Jose's wife called in to work one day, informing Jose's boss that Jose had been in a car accident and was in the hospital. He would need some time off to recover, and might need more than 12 weeks.
Being the wise HR director that she was, after hearing about Jose, Katie gathered not only an FMLA packet to give to Jose, but she also began to think about the steps of the ADA interactive process, including keeping in touch with Jose in regard to helping him return to work (but not putting pressure on him to do so before he was ready).
She also began thinking about documenting how the leave would affect the productivity at work, particularly in regard to product/service quality, lost sales, customer satisfaction, extra burdens on coworkers, and so on.
While Jose was entitled to the FMLA leave, if he were to exhaust his 12 weeks, Katie wanted to be prepared to discuss the situation with him to make him aware of the effects of his absence. With such documentation, Katie would also be well poised to determine whether leave beyond the 12 weeks of FMLA leave would pose an undue hardship.
When Jose exhausted his 12 weeks of FMLA leave, and still needed at least six more weeks, Katie had the documentation supporting the company's engagement in the interactive process with Jose, and how his absence supported their claim that more leave would pose an undue hardship.
When looking at undue hardship, you may include the 12 weeks an employee may already have taken under the FMLA. As such, it's beneficial to begin looking at the undue hardship question while the employee is on FMLA leave.
Having a robust interactive process will also steer you in the right direction. Staying in contact with the employee supports this goal. While you should refrain from asking questions such as "How is your lacerated spleen?" you may ask if the employee's expected return to work date has changed and if there is anything the company can do to help.
This article was written by Darlene Clabault of J. J. Keller & Associates, Inc.
---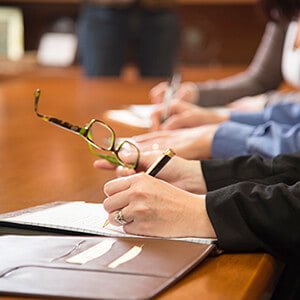 J. J. Keller's Family and Medical Leave Act (FMLA) Consulting Services can help your company ensure compliance with FMLA requirements and minimize the law's burden to your organization.
---
J. J. Keller's FREE HRClicks™ email newsletter brings quick-read human resources-related news right to your email inbox.