Review your wellness program by January 1
Posted July 27 2016
The Equal Employment Opportunity Commission (EEOC) published new regulations regarding incentives that may be offered to encourage participation in wellness programs that are part of group health plans. The new rules apply to programs that begin on or after January 1, 2017.
Many employer-sponsored wellness programs include health risk assessments (HRAs) that involve medical exams or inquiries, such as questions about medical history and tests for cholesterol levels, blood pressure, and blood sugar. Employers sponsoring wellness programs or administering HRAs should review their programs to ensure compliance with the new regulations.
Covered plans
The new regulations apply to all wellness programs that ask for medical information or require a medical exam. However, they do not apply to programs that reward employees simply for engaging in a certain activity, where no medical exam or inquiry is involved. For example, an employer could offer any reward to employees who exercise for at least 30 minutes every day.
Incentive level
For covered plans, the maximum incentive is 30 percent of the cost for employee-only coverage. If an employer offers more than one plan, the 30 percent limit is based on the lowest-cost plan.
For example, if one plan costs $5,500 per year (including employer and employee contributions) and another plan costs $6,500 per year, the maximum permissible incentive would be $1,650, which is 30 percent of the lowest-cost plan, even for employees who enroll in a higher-cost plan or family plan.
The incentive could be a premium reduction, cash reimbursement, gift card, or any other reward. The incentive could also be divided into different areas, such as $800 for completing an HRA and $850 for being a non-smoker.
Other laws allow incentives as high as 50 percent for non-tobacco users. This level can be used only if the wellness program does not involve any medical tests or inquiries. Simply asking whether employees use tobacco is not a medical inquiry, but asking that question as part of an HRA that includes other medical exams would still invoke the 30 percent limit.
Family members
While the incentive level is based on the cost of self-only coverage, most employers also offer family coverage or "employee plus one" coverage. The new regulations allow incentives for spousal participation in a wellness program, but the reward must be no more than 30 percent of the cost for self-only coverage (not 30 percent of the cost for family coverage). The program could, however, offer up to 30 percent for employee participation and another 30 percent for spousal participation.
Incentives cannot be offered to encourage the children of employees to participate in wellness programs that involve medical exams or inquiries, even if the children are over 18 years of age.
Disclosures
Employers were already required to give certain notices to employees, such as describing alternative standards for obtaining a reward. The new regulations will also require a notice of what medical information will be obtained, how it will be used, who will receive it, and the restrictions on its disclosure. The EEOC provided a sample notice that employers may use as a model.
Employers were also already required to keep medical information confidential, but the new regulations clarify that employers should receive wellness program information only in aggregate form that does not identify any individual employee.
---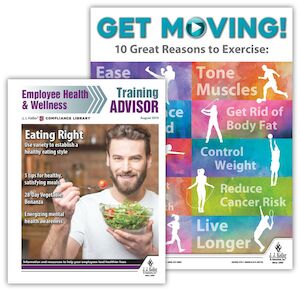 J. J. Keller's LivingRight®: Health & Wellness Awareness Program offers an easy way to help control healthcare costs and promote employee wellness.
---
J. J. Keller's FREE HRClicks™ email newsletter brings quick-read human resources-related news right to your email inbox.