Members of Congress propose alternative to new overtime rule
Posted July 20, 2016
Four members of Congress — Kurt Schrader (D-OR), Jim Cooper (D-TN), Henry Cuellar (D-TX), and Collin Peterson (D-MN) — have introduced The Overtime Reform and Enhancement Act as an alternative to the Department of Labor's (DOL) new overtime rule.
In May of this year, the DOL released a final rule to revise its overtime exemption rules for employees classified as exempt from overtime under the executive, administrative, or professional exemptions. Employers have until December 1, 2016, to make adjustments to be in compliance with the new requirements. The standard minimum salary threshold will more than double, increasing from an annual salary of $23,660 to $47,476.
The Overtime Reform and Enhancement Act would incrementally phase in the new threshold of $47,476 over the next three years, as follows:
December 1, 2016 — $35,984
December 1, 2017 — $39,832
December 1, 2018 — $43,680
December 1, 2019 — $47,476
Congressman Schrader said in an announcement: "The current overtime threshold is horribly outdated and needs to be raised as both employees and employers navigate our changing economy. This bill will do exactly that without disrupting the way businesses operate and employees are paid."
Congressman Peterson added, "A three-year phase in will provide adequate time for business to adapt to the new standard while also ensuring workers are fairly compensated."
In response to the introduction of the legislation that would delay the DOL's current rule, Secretary of Labor Thomas Perez issued the following statement:
"Millions of workers have been waiting years for the overtime rules to catch up to reality and ensure that working people get the pay or time with their families that they deserve. This legislation would ask them to wait even longer. The President and I think that American workers have waited long enough for a fair day's pay for a long day's work. That's our vision of an economy that works for everyone. By delaying implementation and removing the automatic updating of the salary threshold, the proposed legislation stands in stark contrast to that vision."
---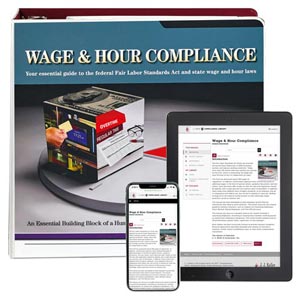 J. J. Keller's Wage and Hour Compliance with FLSA Manual provides critical info to help you comply with the Fair Labor Standards Act (FLSA) and state wage and hour laws.
---
J. J. Keller's FREE HRClicks™ email newsletter brings quick-read human resources-related news right to your email inbox.