FMCSA final rule aligns regulations with FAST Act requirements
Posted July 25, 2016
The Federal Motor Carrier Safety Administration (FMCSA) issued a final rule on July 22, 2016, that put into place eight provisions mandated by the Fixing America's Surface Transportation Act (FAST Act) enacted on December 4, 2015. According to FMCSA, the regulations were non-discretionary and did not require the rulemaking process, i.e., issuance of a proposed rule and public comments.
1. Section 5206: Applications for exemptions
Section 5206(a)(3) of the FAST Act resulted in a change to Section 381.300(b) — allowing exemptions for up to 5 years that may be renewed for subsequent periods of up to 5 years.
Section 5206(a)(3) also permits an applicant whose application for exemption has been denied to resubmit the application addressing the reason for denial. As a result, FMCSA added a new Section 381.317 describing this process.
Section 5206(b)(1) made permanent the following three existing exemptions from the 30-minute rest break requirements in Section 395.3(a(3)(ii):
ready-mixed concrete delivery vehicle,
transportation of bees, and
transportation of livestock while the livestock.
2. Section 5507 – Electronic logging device requirements
Section 5507 of the FAST Act provides an exception for motor carriers transporting a motor home or recreation vehicle trailer in a driveaway-towaway operation, as defined in 49 CFR 390.5. Under this provision, a motor carrier could comply with the hours-of-service (HOS) requirements by using either a paper record of duty status form or an electronic logging device.
3. Section 5518 – Covered farm vehicles
FMCSA revised Section 390.39(b)(1) to clarify a mandate that addressed exemptions found in state laws for covered farm vehicles. Exemptions include commercial driver's licensing (CDL), DOT drug and alcohol testing, medical qualifications, HOS, and vehicle inspections. Such exemptions may not be taken into consideration during federal grants management.
4. Section 5519 – Operators of hi-rail vehicles
For the commercial motor vehicle (CMV) driver of a hi-rail vehicle who is subject to the HOS regulations in 49 CFR Part 395, section 5519 of the FAST Act provides that the maximum on-duty time under Section 395.3 shall not include certain time in transportation to or from a duty assignment.
5. Section 5521 – Ready mix concrete delivery vehicles
Section 5521 of the FAST Act exempts drivers of ready-mixed concrete delivery vehicles from keeping records of duty status if certain criteria are met.
6. Section 5522 – Transportation of construction materials and equipment
The FAST Act amends the definitions for the transportation of construction materials and equipment appearing in the Motor Carrier Safety Improvement Act of 1999, including increasing the distance to a 75 air-mile radius of the normal work reporting location of the driver. The Act also allows a state to establish a different air-mile radius limitation if such limitation is between 50 and 75 air-miles and applies only to movements that take place entirely within the state.
7. Section 5524 –Welding trucks used in the pipeline industry
The FAST Act defines a welding truck used in the pipeline industry as a pick-up style truck, owned by a welder, equipped with a welding rig that is used in the construction or maintenance of pipelines, and that has a gross vehicle weight and combination weight rating and weight of 15,000 pounds or less.
The operator of such a vehicle and the operator's employer are exempted from any requirement relating to registration as a motor carrier, driver qualifications, driving a CMV, parts and accessories and inspection, repair, and maintenance of CMVs, and HOS of drivers. To reflect this section of the FAST Act, FMCSA added the specific exemptions in each of the parts affected.
8. Section 7208 – Hazardous materials endorsement exemption
The Act allows a state, at its discretion, to waive the requirement for a holder of a Class A CDL to obtain a hazardous materials endorsement to transport 1,000 gallons or less of diesel fuel. A state may waive the requirement if the license holder is 1) acting within the scope of the license holder's employment as an employee of a custom harvester operation, agrichemical business, farm retail outlet and supplier, or livestock feeder; and 2) is operating a service vehicle that is transporting diesel in a quantity of 3,785 liters (1,000 gallons) or less and that is clearly marked with a "flammable" or a combustible" placard, as appropriate. FMCSA adds a new paragraph (i) to Section 383.3 to reflect this exemption.
If a state exercises this discretion, a driver may still be required to obtain a hazardous materials endorsement if he or she travels to a state that has not opted to waive the requirement.
---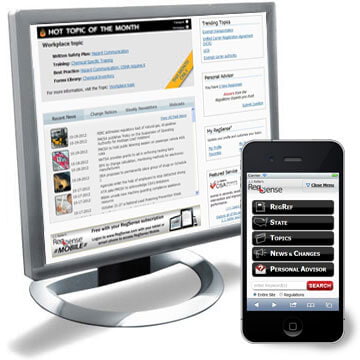 J. J. Keller's RegSense® is the online tool that helps you make sense of the regulations, making you the expert in your company.
---
J. J. Keller's FREE Transportation SafetyClicks™ email newsletter brings quick-read safety and compliance news right to your email box.