Crash preventability to be examined by FMCSA
Posted July 8, 2016
As a follow-up to its January 2015 study on crash preventability, the Federal Motor Carrier Safety Administration (FMCSA) proposes to develop and implement a demonstration program to decide if preventability determinations on certain types of crashes is effective. This includes the impact on motor carriers' Compliance, Safety, Accountability (CSA) Crash Indicator BASIC (Behavior Analysis and Safety Improvement Category) scores.
Under current CSA Safety Measurement System (SMS) Methodology, fault and preventability are not taken into consideration for the Crash Indicator BASIC. All "recordable crashes" submitted by the state to FMCSA are used in the calculations.
The pilot program would consider a crash as not preventable if the commercial motor vehicle (CMV) was struck by a motorist who was convicted of one of the following four offenses or a related offense:
Driving under the influence;
Driving the wrong direction;
Striking the CMV in the rear; or
Striking the CMV while it was legally parked.
In addition, the agency indicated that animal strikes and suicide through a CMV would also be included in the list of possible scenarios to have a crash removed from the SMS.
The demonstration program would use DataQs data requests for data reviews (RDRs) to facilitate the removal of the accident. Under the proposed changes to the SMS Methodology, the motor carrier, driver, or public would have to provide documentation via the portal in order for the crash to be taken off of the motor carrier or driver's Crash Indicator BASIC score.
Based on the decision of FMCSA staff or a contractor (yet to be determined), the RDR would result in one of three dispositions: not preventable, preventable, or undecided. In the case of undecided, the documentation submitted was inconclusive, and the safety event remains in the SMS data.
During the test, FMCSA will maintain data in order to determine the cost of the operation, future crash rates of carriers that submitted RDRs, future crash rates of motor carriers with preventable crashes, and impacts on SMS crash rates.
Any motor carrier wishing to participate may do so by simply submitting an RDR. The test will be conducted for at least 24 months and will apply only to crashes occurring after the start date of the test. In addition, the pilot program will not change a motor carrier's scores. It is a test to determine whether proposed changes are feasible and effective.
FMCSA is accepting comments on this proposed pilot program for 60 days following the publication of the Notice in the Federal Register. Publication in the Federal Register is expected within the next week.
---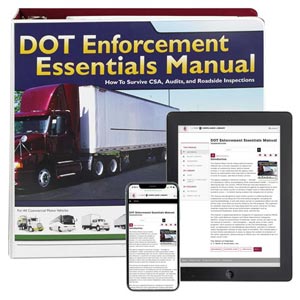 J. J. Keller's DOT Enforcement Essentials Manual is a tool that helps proactively enforce in-house and roadside compliance and prepare for FMCSA audits.
---
J. J. Keller's FREE Transportation SafetyClicks™ email newsletter brings quick-read safety and compliance news right to your email box.