OSHA seeks industry input on heat standard
Posted June 30, 2023
To address the risks associated with working in high temperatures, OSHA has a standard in the works to protect workers in the general industry, construction, maritime and agriculture industries from exposure to hazardous heat.
As part of the development process, OSHA will hold Small Business Advocacy Review (SBAR) panel meetings this August to collect information from small businesses on the potential impact a heat standard may have on their current operations and in helping to protect their employees from heat-related illnesses and injuries.
Via a series of teleconferences, OSHA welcomes participation from small businesses in any industry that might be affected by the standard. The agency is particularly interested in hearing from businesses in the agriculture, construction, landscaping, manufacturing, oil and gas, warehousing, waste management, utilities, and food service industries because these businesses would experience the greatest impact from the standard. All discussions will be open to the public.
At the conclusion of the meetings, the SBAR panel will provide a final report to the head of OSHA within 60 days of the final meeting date.
This article was written by Carmen King of J. J. Keller & Associates, Inc.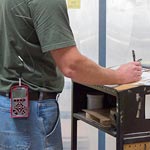 Looking for more on workplace safety?
Get the information and products you need to stay on top of industry changes and comply with regs.