OSHA Agenda projects five final rules by the end of the year
Posted June 16, 2023
OSHA's Spring 2023 regulatory agenda was released June 14 and projects five final rules before the end of the year: COVID-19 in healthcare settings, electronic submissions, hazard communication, use of subpoenas, and whistleblower protection. To date, the COVID-19 and electronic submissions rules are at the Office of Management and Budget (OMB) for review, which is the final step of the rulemaking process before publication in the Federal Register. The hazard communication rule has not yet reached the OMB, which means it won't meet OSHA's June 2023 projection for publication.
Most rulemakings are at the proposed rule stage, and when they come up in the Federal Register, stakeholders will have a chance to comment.
Final rules
The agency expects five final rules by the end of 2023:
June 2023 – Update to the Hazard Communication Standard
June 2023 – Occupational Exposure to COVID-19 in Healthcare Settings
June 2023 – Improve Tracking of Workplace Injuries and Illnesses
August 2023 – Procedures for the Use of Administrative Subpoenas
September 2023 - Procedures for Handling of Retaliation Complaints Under the Whistleblower Protection Statutes
Proposed rules
Most rules on the agenda are at the proposed rule stage:
June 2023 – Personal Protective Equipment in Construction
June 2023 - Worker Walkaround Representative Designation Process
July 2023 - Powered Industrial Trucks Design Standard Update
August 2023 – Welding in Construction Confined Spaces
August 2023 – Walking Working Surfaces
November 2023 – Emergency Response
December 2023 – Tree Care Standard
January 2024 - Occupational Exposure to Crystalline Silica: Revisions to Medical Surveillance Provisions for Medical Removal Protection
March 2024 – Infectious Diseases
March 2024 - Amendments to the Cranes and Derricks in Construction Standard
March 2024 - Communication Tower Safety
Pre-rules
OSHA anticipates the following actions at the pre-rule stage:
August 2023 - Heat Illness Prevention in Outdoor and Indoor Work Settings (initiate Small Business Regulatory Enforcement Fairness Act (SBREFA))
November 2023 - Process Safety Management and Prevention of Major Chemical Accidents (analyze comments)
December 2023 - Mechanical Power Presses Update (analyze comments)
December 2023 - Prevention of Workplace Violence in Health Care and Social Assistance (analyze SBREFA report)
December 2023 - Blood Lead Level for Medical Removal (analyze comments)
Long-term actions
Occupational Injury and Illness Recording and Reporting Requirements--Musculoskeletal Disorders (MSD) Column •
Shipyard Fall Protection--Scaffolds, Ladders and Other Working Surfaces • Powered Industrial Trucks •
Lockout/Tagout
Occupational Exposure to Crystalline Silica; Revisions to Table 1 in the Standard for Construction •
COVID-19 Vaccination and Testing Emergency Temporary Standard Rulemaking
This article was written by Rachel Krubsack of J. J. Keller & Associates, Inc.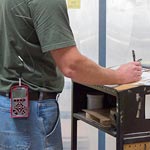 Looking for more on workplace safety?
Get the information and products you need to stay on top of industry changes and comply with regs.