MSHA impact inspections uncover 335 violations
Posted June 9, 2023
Impact inspections at 20 mines across 15 states in April 2023 uncovered 335 violations, the Mine Safety and Health Administration (MSHA) reported. Of these, 92 were significant and substantial (S&S). An S&S violation is one that is likely to cause severe injury or illnesses. Additionally, inspectors found five unwarrantable failures, which the agency defines as including "willful misconduct" or "reckless disregard."
Mines with a history of poor compliance and prior injuries, illnesses, and accidents are typically the focus of MSHA impact inspections because their previous actions warrant further attention and enforcement.
Assistant Secretary for MSHA Chris Williamson said, "Impact inspections highlight the need for mine operators to be vigilant at all times and act quickly to prevent accidents and repeat violations, and MSHA uses these inspections to protect the nation's miners from exposure to the serious safety and health hazards that exist in mine operations."
Full results of April's impact inspections can be found at msha.gov.
This article was written by Carmen King of J. J. Keller & Associates, Inc.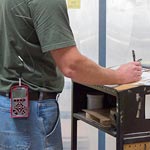 Looking for more on workplace safety?
Get the information and products you need to stay on top of industry changes and comply with regs.