DOL wins historic $22 million overtime pay verdict
Posted June 9, 2023
In May, a federal court jury awarded back wages of more than $22 million to the U.S. Department of Labor (DOL) for more than 7,500 employees working for a manufacturing company. The DOL proved that the employer failed to pay the employees overtime pay.
The award marks the largest recorded verdict under the federal Fair Labor Standards Act (FLSA) obtained by the DOL. The agency also intends to ask the U.S. District Court for the Eastern District of Pennsylvania to award an equal amount in liquidated damages for the affected workers.
The DOL will seek an injunction requiring the employer to comply with the FLSA in the future.
Case background
The DOL investigation began in 2016, which resulted in a 2018 complaint.
In an earlier summary judgment ruling, the court found that the employer violated the FLSA's overtime requirement by failing to pay uniformed workers for all actual working time. It paid workers only for their eight-hour scheduled shift, but not for additional time employees needed to put on and remove (donning and doffing) personal protective equipment (PPE) and to shower to avoid the dangers of lead exposure and other hazards.
At the company, time spent changing into and out of uniforms and showering are hours worked because they were necessary and indispensable to the work.
The employer did not pay employees based on their actual clock-in and clock-out times, but adjusted the times to pay employees only for their scheduled shifts. This willful FLSA violation against the workers occurred daily for years.
This article was written by Darlene Clabault of J. J. Keller & Associates, Inc.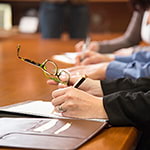 Looking for more on HR compliance?
Get the information and products you need to stay on top of industry changes and comply with regs.