Brake news for summer trucks: 2023 Brake Safety Week coming this August
Posted June 23, 2023
Now that summer is officially here, it's time to prepare for the Commercial Vehicle Safety Alliance's (CVSA) annual Brake Safety Week. The inspection campaign returns this year from August 20-26 with a focus on brake lining and brake pad violations.
CVSA uses this recurring week-long event to emphasize the importance of brake safety, inspecting brake systems and their components to ensure non-compliant commercial motor vehicles stay off the roadways.
Since brake lining and brake pad issues pose the threat of vehicle violations, carriers should take this opportunity to maintain or improve their safety ratings.
What to note for the 2023 Brake Safety Week
In addition to the standard brake inspections, CVSA inspectors will collect inspection and violation data reports to send to the Alliance. The results of the August Brake Safety Week inspections will be available in fall of this year.
Also, in an effort toward increased brake safety awareness, outreach, and education, the CVSA has offered the following breakdown of the inspection process to help motor carriers and drivers take hands-on steps to ensure their vehicles are compliant and safe for the roads.
Bad brakes are a serious safety risk, and upholding federal regulations is not just a good practice, it's required in the safety regulations.
What inspectors are looking for during a Level I or Level V Inspection
During the brake portion of a Level I or V Inspection, inspectors will check for the following:
Missing, cracked, loose, or non-functional parts;
Contaminated, cracked, missing, and/or worn brake linings or pads;
S-cam flipover;
Audible air leaks;
Correct size and length of slack adjusters and air chambers along each axel;
Air pressure levels (between 90-100 psi) and pushrod travel measurements;
Non-manufactured holes and broken springs in the parking brake;
Correct function of the required brake system warning devices;
The tractor protection system and the trailer's bleedback system; and
The trailer's breakaway system.
This article was written by Lucero Truszkowski of J. J. Keller & Associates, Inc.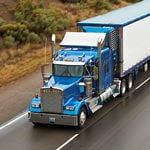 Looking for more on transportation safety?
Get the information and products you need to stay on top of industry changes and comply with regs.