Bill Clinton tells HR leaders businesses, workers can both be winners
Posted June 15, 2023
Workplace issues, like immigration reform and paid leave, can be both pro-worker and pro-business, former President Bill Clinton told the audience at the 75th annual national Society for Human Resources Management (SHRM) Conference.
"You need to be fair to the workers and the economy and there are even more options to do both today than when I was president," Clinton said Monday.
Clinton's keynote speech opened the second day of the conference, which drew more than 20,000 HR professionals to Las Vegas, with another 3,000 participating virtually. The conference features more than 380 speakers offering information on HR trends and best practices.
FMLA 30th anniversary
Clinton signed the Family and Medical Leave Act (FMLA) into law 30 years ago and sees paid leave as the next step for the U.S. "Paid leave would help the economy and it would be pro-work and pro-family," he said. "We need to have policies that are not either or."
FMLA provides eligible employees with 12 weeks of job-protected leave for certain qualifying events, such as baby bonding time. The leave is unpaid, although employees often use paid leave, such as vacation time, to supplement their income while off work.
Immigration reform and hiring
Immigration is another area where both businesses and workers would benefit. "The birth rate is below the replacement rate," he said. "We need immigration reform that allows people to come and fill needed spots."
Disruption due to political violence, drug cartel violence, and environmental disasters has led to a system that's overwhelmed and lacking in adequate shelter for immigrants and processing delays. "You can't take everybody at once," he said. "We should target people who have or are willing to get the skills they need and who are willing to go where they are needed."
Key to remember: President Bill Clinton spoke at the 75th Society for Human Resources Management Conference and emphasized that there are opportunities for reform but people need to work together to move forward.
This article was written by Terri Dougherty of J. J. Keller & Associates, Inc.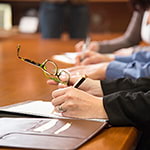 Looking for more on HR compliance?
Get the information and products you need to stay on top of industry changes and comply with regs.