The Supreme Court's Ruling on West Virginia et al.v. Environmental Protection Agency
Posted June 30, 2022
Today, the Supreme Court handed down the much-anticipated decision of what is considered the biggest climate change case in decades. The case of West Virginia et. al. v. Environmental Protection Agency (EPA) consolidates lawsuits from other states and several coal companies. West Virginia's attorney general sued the EPA claiming regulatory overreach from the agency, essentially stating that the EPA did not have the authority to regulate greenhouse gas emissions (of fossil-fuel burning power plants) under the Clean Air Act (CAA). The lawsuit further argued that the Clean Power Plan should be invalidated because the CAA makes no mention of carbon emissions and that it should be up to Congress (not the EPA) to write new rules regulating emissions.
Ultimately the decision reached a majority 6-3 vote limiting the EPA's regulation of emissions from power plants without authorization from Congress.
Chief Justice John Roberts wrote that the EPA "must point to 'clear congressional authorization' for the power it claims." Adding that "Capping carbon dioxide emissions at a level that will force a nationwide transition away from the use of coal to generate electricity may be a sensible 'solution to the crisis of the day, but it is not plausible that Congress gave EPA the authority to adopt on its own such a regulatory scheme."
The decision is controversial; it comes at a momentous time and is considered a part of a wider legal clash in an attempt to curtail federal overreach. It is important to note that the decision follows one made in January, in which the Supreme Court stayed the OSHA Vaccination and Testing Emergency Temporary Standard rule. Similarly, the court order had explained that Congress had not given OSHA the power to regulate public health. Today, Justice Roberts' opinion pointed to the OSHA case when it discussed EPA's authority and the major questions doctrine. We may see environmental policy move definitively to state jurisdiction. No matter where you stand on this decision, it will undoubtedly have a significant impact on several factors that affect us all regardless of industry or affiliation.
This article was written by Mishka Binns of J. J. Keller & Associates, Inc.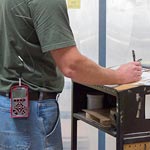 Looking for more on workplace safety?
Get the information and products you need to stay on top of industry changes and comply with regs.