May employers change the FMLA leave year?
Posted June 30, 2022
If you're using the calendar year method to calculate the 12-month leave year period for FMLA leave, and employees are taking leave at the end of one year and into the next, consider switching to the rolling backward method.
In general, employers get to choose from the following methods to identify the 12-month leave year period:
The calendar year,
Any fixed 12-month leave year,
The 12-month period measured forward from the date any employee's first FMLA leave begins, or
A "rolling" 12-month period measured backward from the date an employee uses any FMLA leave.
When using the calendar year method, an employee could take FMLA leave in October, November, and December, and get a new batch of 12 weeks of leave beginning January 1 of the next year. Therefore, the employee could end up being on FMLA leave for 24 straight weeks — 12 weeks in one year, and 12 in the next. If you do not want that to happen, change the leave year.
You may change the leave year if you take two steps:
Give at least 60 days' notice to all employees of the upcoming change, and
Make sure the transition takes place in such a way that employees retain the full benefit of 12 weeks of leave under whichever method affords the greatest benefit to the employee.
Under no circumstances may a new method be implemented in order to avoid the FMLA's leave requirements.
Don't forget about state laws. The WI FMLA, for example, requires the use of the calendar year. The federal DOL has indicated that, if a state law requires a particular method (like the WI law does), employers are to use that same method for federal FMLA.
This article was written by Darlene Clabault of J. J. Keller & Associates, Inc.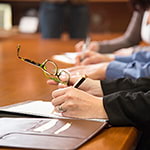 Looking for more on HR compliance?
Get the information and products you need to stay on top of industry changes and comply with regs.