Agencies address overtime exemptions, Davis-Bacon in spring agenda
Posted June 28, 2022
On June 21, 2022, the Spring 2022 Unified Agenda of Regulatory and Deregulatory Actions was released. This bi-annual agenda offers a look at what federal agencies are working on, and gives employers a heads-up on possible changes that could impact businesses. Here are four key agenda items from the Department of Labor (DOL) and National Labor Relations Board (NLRB):

Agency

Agenda Item

Impact/Next Steps

Rulemaking Stage

Wage and Hour Division (WHD)

Overtime Rule/White Collar Exemptions: WHD is reviewing the regulations which implement the exemption of bona fide executive, administrative, and professional employees from the Fair Labor Standards Act's minimum wage and overtime requirements.

Employers may have to increase the salary level for exempt employees.

Proposed Rule: A Notice of Proposed Rulemaking (NPRM) is expected in October 2022.

Wage and Hour Division (WHD)

Davis-Bacon Act: WHD proposes to update and modernize the regulations implementing the Davis-Bacon and Related Acts to provide greater clarity and enhance their usefulness in the modern economy.

Covered contractors and subcontractors must pay their laborers and mechanics employed under the contract no less than the local prevailing wage rates and fringe benefits as required by the applicable wage determination.

Final Rule: Anticipated for December 2022.

Occupational Safety and Health Administration (OSHA)

Workplace Violence: Prevention of Workplace Violence in Health Care and Social Assistance

A Request for Information (RFI) was published in December 2016 that provided OSHA with a history of issues of workplace violence in health care and social assistance. The RFI solicited information primarily from health care employers, workers, and other subject matter experts. OSHA was petitioned for a standard preventing workplace violence in health care by a broad coalition of labor unions, and in a separate petition by the National Nurses United.

Prerule: OSHA is preparing to initiate the requirements of the Small Business Regulatory Enforcement Fairness Act (SBREFA) in September 2022.

National Labor Relations Board
(NLRB)

Joint Employer: The NLRB will engage in rulemaking to determine whether two employers, as defined in the National Labor Relations Act, are a joint employer under the Act.

It's anticipated that the NLRB will either change or rescind the current rule, replacing it with a broader standard that would expand joint employment liability.

Proposed Rule: The NLRB plans to issue an NPRM in September 2022.
This article was written by Michelle Higgins of J. J. Keller & Associates, Inc.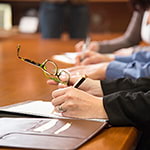 Looking for more on HR compliance?
Get the information and products you need to stay on top of industry changes and comply with regs.