FMCSA issues new waiver for pre-employment drug testing
Posted June 9, 2020
The Federal Motor Carrier Safety Administration (FMCSA) has issued a new drug-testing waiver to help motor carriers bring back their furloughed truck and bus drivers.
In effect until September 30, the waiver allows motor carriers to re-employ drivers without performing a pre-employment drug test, provided certain steps are documented.
Current regulations in §382.301(b) allow employers to skip the pre-employment drug test only if the driver was enrolled in a compliant drug testing program in the past 30 days. The waiver extends that exception to 90 days in light of the COVID-19 emergency.
"As employers begin to recall drivers who were furloughed, laid off, or otherwise not working for the company for more than 30 days, the cost and logistical barriers of testing a large influx of drivers in a short timeframe are significant," the FMCSA announced.
The waiver applies from June 5, 2020, through 11:59 p.m. on September 30, 2020. No matter a driver's employment status, he or she must normally undergo a pre-employment drug test if removed from the company's random testing program for more than 30 days (which is now extended to 90 days). No test is required for drivers who remained in the random testing pool during an absence.
Terms
To use the new waiver, an employer must:
Verify that the driver participated in a Part 382 drug testing program within the prior 90 days;
Verify that the driver, while in that testing program, was either tested for drugs within the last 6 months (prior to the new date of application) or participated in the random drug testing program for the previous 12 months;
Verify that the driver had no recorded violations of another DOT agency's drug-use regulations within the previous 6 months;
Purchase a pre-employment query from the Drug & Alcohol Clearinghouse (§382.701) and not allow any safety-sensitive functions if the results of the query show that the driver had a violation;
Investigate the driver's drug and alcohol testing history with current and previous employers, per §40.25, §382.413, and §391.23; and
Email the FMCSA within five business days of any recordable accident involving any driver for whom the waiver was used.
Refer to §382.301(c) for documentation requirements when using the pre-employment testing exception.
The FMCSA issued guidance in late March pertaining to other drug and alcohol testing requirements during the pandemic. That guidance remains in effect until June 30.
This article was written by Daren Hansen of J. J. Keller & Associates, Inc.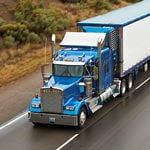 Looking for more on transportation safety?
Get the information and products you need to stay on top of industry changes and comply with regs.