What's good for the gander…
Posted June 12, 2019
After the birth of each of his two children, Joe Employee took leave. Happily, the company had a policy that provided for paid parental leave. The issue was that fathers got far less leave than mothers. The policy treated biological mothers as primary caregivers who were eligible for 16 weeks of paid parental leave and treated fathers as non-primary caretakers who were eligible for 2 weeks of paid parental leave.
Joe Employee wondered about this, and asked to take off a full 16 weeks of parental leave when his second child was born, which happened in early June. Because his wife was a teacher and had the summer off, Joe couldn't demonstrate that she had returned to work. He also could not show that his wife had medical limitations on her ability to provide "any care" for their child. Therefore, he was not eligible for the 16 weeks of leave as a primary caregiver.
Joe felt this was discriminatory on the basis of sex, and he filed a claim with the Equal Employment Opportunity Commission (EEOC), which allowed him to file a class-action suit under Title VII (the employment provisions) of the federal Civil Rights Act.
Joe's complaint indicated that the company engaged in a pattern or practice of implementing policies in which staff and third-party agents informed birth fathers like Joe that birth fathers could not qualify as primary caregivers because mothers were presumptively considered primary caregivers, because men could not qualify as primary caregivers, and/or because certain birth fathers did not meet any of the exceptions that would permit them to be primary caregivers.
This resulted in many birth fathers being prevented, discouraged, and deterred from applying to be primary caregivers or were outright denied the opportunity to be primary caregivers under the company's paid parental leave program.
The company subsequently changed its leave policy to eliminate gender-specific language, and to make clear that fathers as well as mothers were eligible to be designated as primary caregivers, but it was too late; the legal die had been cast. Joe (and many other similarly situated male employees of the fairly large company), as a result of the company's unlawful sex discrimination, claimed they have suffered significant harm, including the loss of the paid time off, emotional pain and suffering, and other nonpecuniary losses.
Cue sound of a cash register.
The employer agreed to pay $5 million to settle the case without admitting guilt. This precedential settlement is the first class action lawsuit to settle sex discrimination claims for a class of fathers who claim they were denied the opportunity to receive equal paid parental leave given to mothers.
If your company has a parental leave policy that provides more leave for one parent than the other based on protected class, such as sex, now would be a good time to review, revise, or somehow address any related concerns.
Rotondo v. JPMorgan Chase Bank, N.A., S.D. Ohio, No. 1:19-cv-408, May 30, 2019.
This article was written by Darlene M. Clabault, SHRM-CP, PHR, CLMS, of J. J. Keller & Associates, Inc.
---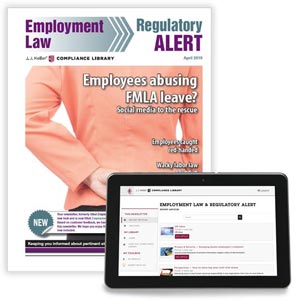 J. J. Keller's Employment Law & Regulatory Alert Newsletter explains why you need to care, what you need to do and how your business could be affected by HR industry news.
---
J. J. Keller's FREE HR SafetyClicks™ email newsletter brings quick-read safety and compliance news right to your email box.