OSHA aims to protect workers from lead at indoor firing ranges
Posted June 29, 2018
A new OSHA Fact Sheet provides firing range employers with information on how they can protect their workers from lead. OSHA says that using lead bullets or lead-containing primers at indoor shooting ranges can expose workers to lead and result in unsafe blood-lead levels. Lead poisoning can result in organ damage and a variety of health problems.
In workplaces with potential lead exposure, OSHA's Lead Standard requires employers to conduct an initial determination of workers' airborne exposure to it. Additional requirements apply if workers are exposed to lead at or above the action level (AL) or the permissible exposure limit (PEL).
According to the Fact Sheet, potential lead exposures occur at indoor firing ranges in the following circumstances:
Shooting firearms with lead bullets or lead-containing primer creates airborne lead in the gun smoke;
Lead bullet deformation and fragmentation can cause exposure at hard surface bullet trap systems;
The building's standard ventilation system may not adequately remove airborne lead particles from the range;
Handling spent cartridges or cleaning firearms can contaminate the hands and skin with lead;
Improper range cleaning methods (e.g., dry sweeping, compressed air, and non-high-efficiency particulate air filtered vacuums) or inadequate cleaning of lead-contaminated surfaces can result in a buildup of lead;
Recovering lead bullets from traps, emptying bullet trays, or casting lead bullets can create lead dust and fumes;
Bringing food and drinks into the range area or not washing hands and face before eating, drinking, or smoking after using the range;
Not having access to handwashing facilities for workers to remove lead; and
Wearing contaminated work clothes in eating and office areas, or wearing these clothes home.
The Fact Sheet also highlights selected OSHA requirements and offers recommendations to help employers comply with the Lead Standard. The regulations at 29 CFR 1910.1025 require exposure monitoring; effective housekeeping; respiratory protection for workers with exposures at or above the PEL; protective work clothing and equipment for exposed employees; hygiene facilities and practices; medical surveillance and medical removal protection; and employee lead hazard training and hazard communication.
The exposure controls for firing ranges that OSHA recommends in the fact sheet include:
Eliminate or substitute: Use jacketed or lead-free bullets and non-lead primer.
Engineering controls: Provide a separate "push/pull" ventilation system (not connected to the general HVAC system) with supplied and exhausted air flow designed to move lead emissions downrange toward the filtered exhaust area at or behind the bullet trap.
Work practice controls: Use a closed bag system to empty bullet trays and debris. Use a water mist spray or other type of wet method to keep lead dust from becoming airborne.
---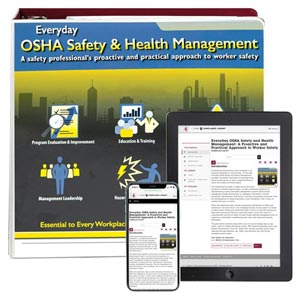 J. J. Keller's Everyday OSHA Safety & Health Management Manual provides "how-to" guidance and tools on a wide range of workplace health and safety issues.
---
J. J. Keller's FREE Workplace SafetyClicks™ email newsletter brings quick-read workplace safety and compliance news right to your email box.