Coming this summer: Proposed joint employer rules
Posted June 11, 2018
In a letter written in response to concerns from members of Congress regarding the issues surrounding joint employers, National Labor Relations Board (NLRB) Chairman John F. Ring indicated that internal preparations are underway, and they are working toward issuing a Notice of Proposed Rulemaking (NPRM) as soon as possible, but certainly by this summer.
The notice will offer a comment period, so if you have input on the rules, you have a chance to voice your views. Ring indicated that he looks forward to "hearing from all interested parties, including individuals and small businesses that may not be able to afford to hire a law firm to write a brief for them, yet have valuable insight to share from hard-won experience."
The identification and treatment of independent contractors have been on the mind of employers for some time. The question remains: Just what constitutes a joint-employer relationship?
Before 2015, if employers had direct and immediate control over the working conditions of an employee from another company, the two employers were considered to be one joint employer. In 2015, the NLRB ruled in Browning-Ferris that joint employment could also exist when companies have only "indirect or unexercised control" over workers. This decision left employers and unions almost completely in the dark so far as predicting outcomes in specific cases and planning accordingly is concerned.
Then, the NLRB overturned the Browning-Ferris decision, and reinstated the old requirement of having direct and immediate control over shared employees, leaving employers further in the dark as to what to expect.
In February, however, the NLRB vacated their latest ruling, so the Browning-Ferris decision currently stands.
In light of all this, in May, the NLRB announced that it would come up with rules to provide some clarification.
Whatever standard the NLRB ultimately adopts at the conclusion of the rulemaking process, the final rule will hopefully bring far greater certainty and stability to this key area of employment law, consistent with congressional intent.
With the gig economy growing, such guidance can help employers determine who are employees for whom they have responsibilities. Many employers depend upon temporary and other such workers, and a change in the definitions could have a substantial impact.
This article was written by Darlene M. Clabault, SHRM-CP, PHR, CLMS, of J. J. Keller & Associates, Inc.
---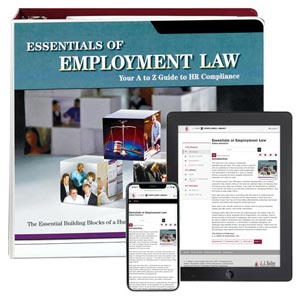 J. J. Keller's Essentials of Employment Law Manual covers more than 100 vital HR topics, including FMLA, ADA, HIPAA, FLSA, COBRA and more.
---
J. J. Keller's FREE HRClicks™ email newsletter brings quick-read human resources-related news right to your email inbox.