OSHA looking to reshape Voluntary Protection Programs (VPP)
Posted June 19, 2017
On June 15, OSHA posted a memo for the General Public asking for input on its Voluntary Protection Programs (VPP). The Agency is opening a docket for the public to submit documents and comments on the VPP.
OSHA says it is looking for information on the future direction of the programs. "OSHA is seeking to reshape the VPP so that it continue to represent safety and health excellence, leverages partner resources, further recognizes the successes of long-term participants, and support small program growth."
Under the prior OSHA leadership, there was some question about how and whether OSHA should continue to run and fund the VPP. However, many believe the current OSHA leadership will place more emphasis on compliance assistance and partnerships, such as the VPP.
OSHA's VPP recognizes and rewards employers in private industry and federal agencies that have implemented effective safety and health management systems. Eligible employers must maintain injury and illness rates below national averages for their sectors. The program takes a cooperative and proactive approach between OSHA, management, and labor representatives to focus on: hazard prevention and control; worksite analysis; training; and management commitment and worker involvement.
To attain VPP status, employers must submit an application to OSHA and undergo a comprehensive OSHA evaluation. If the company is represented by a bargaining unit, then the VPP effort must be supported by the Union. Participants in the VPP program are reevaluated every three to five years.
VPP participants are exempt from OSHA programmed inspections while they maintain their VPP status.
To comment on OSHA's VPP programs, go to the Federal eRulemaking Portal and use Docket No. OSHA-2017-0009. The docket will remain open until September 15, 2017.
---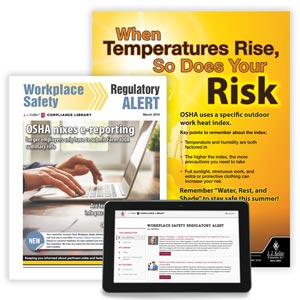 J. J. Keller's Workplace Safety Advisor covers important topics, including: hazard communication, OSHA Inspections, recordkeeping requirements, bloodborne pathogens, and lockout/tagout.
---
J. J. Keller's FREE Workplace SafetyClicks™ email newsletter brings quick-read workplace safety and compliance news right to your email box.