Trucker declared imminent hazard after fatal crash
Posted June 29, 2016
The Federal Motor Carrier Safety Administration (FMCSA) has declared a Tennessee-licensed truck driver to be an imminent hazard to public safety and has ordered him not to operate any commercial motor vehicle in interstate commerce. The commercial driver's license (CDL) holder was served the federal order on June 22, 2016.
On March 18, 2016, the driver was operating a large commercial truck for a Tennessee-based trucking company. He was traveling on a highway in Maine when the trailer portion of the rig crossed the centerline, tipped over, and began scattering its load of lumber across the roadway. At the time of the crash, the driver's truck was traveling approximately 80 miles-per-hour in a posted 55 miles-per-hour speed limit zone.
As the truck and trailer and its load of lumber continued to slide down the roadway at a high rate of speed, a pick-up truck, an SUV, and a minivan, in turn, were struck. The drivers of the pick-up truck and minivan were killed. Two additional crash victims were airlifted to the hospital.
A field sobriety test conducted on the driver by Maine State Police at the scene of the crash detected the presence of alcohol. State Police also found a bottle of whisky in the driver's truck.
Investigators also discovered that at the time of the crash, the driver's CDL had been revoked by the state of Virginia for a conviction of driving while intoxicated.
Investigators further found that the driver was in violation of multiple federal hours-of-service regulations, which are designed to prevent fatigued driving.
Before departing on the March 18, 2016, trip, a family member joined the drivers as an unauthorized passenger, in violation of federal regulation. The subsequent multiple fatality crash occurred shortly after the driver and his passenger departed a lumber yard in Maine.
FMCSA's imminent hazard out-of-service order to the driver states that his " … blatant disregard of (federal safety regulations) and continued disregard for the safety of the motoring public demonstrated by these actions substantially increases the likelihood of serious injury or death to you and/or the motoring public."
The driver may also be subject to a civil penalty enforcement proceeding brought by FMCSA for his violation of the agency's safety regulations.
Failure to comply with the provisions of a federal imminent hazard out-of-service order may result in action by the U.S. Attorney's Office for equitable relief and civil penalties. Civil penalties of up to $3,100 may be assessed for operation of a commercial motor vehicle in violation of the order. Knowing and/or willful violation of the order may also result in criminal charges.
---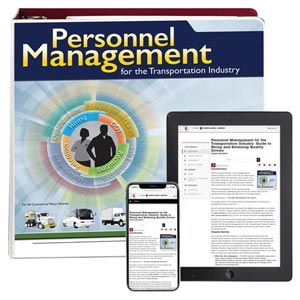 J. J. Keller's Personnel Management for the Transportation Industry provides transportation professionals with the information necessary for effective people/driver management.
---
J. J. Keller's FREE Transportation SafetyClicks™ email newsletter brings quick-read safety and compliance news right to your email box.