Rumor mill generates misinformation on new fed med forms
Posted June 3, 2016
For all driver medical exams performed as of April 22, 2016, the Federal Motor Carrier Safety Administration (FMCSA) requires the mandatory use of the new medical examination report form (i.e., long-form physical) and medical examiner's certificate (i.e., fed med card). As a result of this recordkeeping change, a lot of misinformation has been circulating through the transportation industry.
Below are some of the more common misunderstandings.
Myth #1: The medical standards are changing
Even though the format has changed to record the driver's physical, the standards set forth by FMCSA have not. The driver is still held to 13 standards in Section 391.41(b), with four being absolutes and nine being suggested guidelines. The absolutes are hearing, insulin-dependent diabetes, epilepsy, and vision. In these instances, the medical examiner's (ME's) hands are tied, and he or she cannot medically qualify the driver. For the guidelines, the ME may medically qualify a driver, going against FMCSA's suggestions. The ME would have to document on the exam form why he or she chose to qualify the driver.
Myth #2: Paper forms went away in April
Many have mistakenly come to believe that the new forms are electronic only, and hardcopies are no longer allowed and will not be issued to drivers.
The April 20, 2016, deadline simply revised the format of the documents. Drivers will still be issued a hardcopy of the medical card, and the medical examiner may use either an electronic or hardcopy version of the exam form.
Hardcopies of the medical card will be around indefinitely for non-CDL drivers since their medical status is not tied to their licenses nor tracked by the state licensing agency.
Once the medical integration rule is in place for exams performed on or after June 22, 2018, CDL drivers will not receive a medical card since the exam results will appear on their driving records within a day or so.
Myth #3: CDL drivers no longer have to submit med cards to the state MEs as of April
Although this is the ultimate goal, this is not taking place until June 22, 2018. For all CDL driver medical exams performed up to June 22, 2018, the CDL holder is still responsible for turning in the medical card to the state. The ME will continue to issue a medical card to the CDL driver up to that point, and the state will manually enter the medical status. Beginning June 22, 2018, the ME will transmit the results of the CDL driver's exam to FMCSA, who in turn will populate CDLIS with the results for the state agency to use on the driver's motor vehicle record (MVR).
---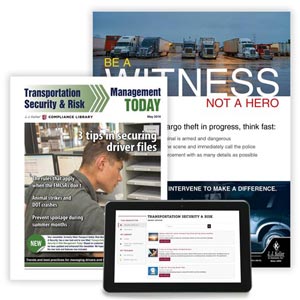 J. J. Keller's Hazardous Materials Compliance Manual keeps you up-to-date on the latest in security and motor carrier safety risk management.
---
J. J. Keller's FREE Transportation SafetyClicks™ email newsletter brings quick-read safety and compliance news right to your email box.