President signs TSCA reform bill into law
Posted June 24, 2016
On June 22, President Barack Obama signed into law H.R. 2576, the "Frank R. Lautenberg Chemical Safety for the 21st Century Act," which modernizes and overhauls the Toxic Substances Control Act (TSCA). The bill will help protect people from chemicals in everyday products and provide businesses with more regulatory certainty.
The Lautenberg Act mandates review of all chemicals currently in commerce and requires review of new chemicals before allowing them into the marketplace. It will also help ensure EPA's standard for assessing a chemical's safety is based solely on human health, not cost considerations.
First passed in 1976, TSCA was designed to protect the public and the environment from new and existing chemicals in the marketplace. However, the law only covers five chemicals. Therefore, potentially harmful chemicals continue to be used in everyday products.
In addition to mandating review of new and existing chemicals, the Lautenberg Act:
Sets judicially-enforceable deadlines,
Makes more information about chemicals available by limiting the ability of companies to claim information as confidential, and
Requires increased industry funding of the EPA's work to protect public health and the environment from toxic chemicals.
---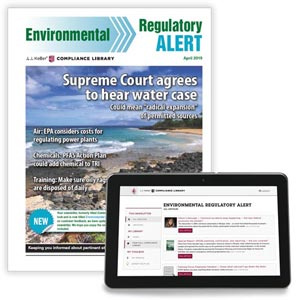 J. J. Keller's Environmental Alert: The Compliance Guide for Safety Professionals helps you stay on top of the latest environmental enforcement issues.
---
J. J. Keller's FREE Workplace SafetyClicks™ email newsletter brings quick-read workplace safety and compliance news right to your email box.