Washington state proposes wildfire smoke rules
Posted May 26, 2023
In response to larger, more frequent wildfires, the Washington State Department of Labor and Industries (L&I) has proposed permanent wildfire smoke rules and formally requested public input. The proposed rule includes year-round requirements for employers that will be in effect whenever there is a risk that workers will be exposed to wildfire smoke.
When the NowCast Air Quality Index (AQI) for PM 2.5 (small particles of dangerous material) is 69 or higher, employers must provide appropriate protections for workers. These protections increase as the air quality worsens. Depending on the AQI, requirements and protections include:
A wildfire smoke response plan, safety training, and emergency response measures for workers experiencing symptoms;
Respiratory protection and reasonable wildfire exposure controls;
Relocation of workers requiring medical attention to a space with clean air; and
N95 or greater quality respirators and a full workplace respiratory protection program.
People who work outdoors in jobs such as construction, agriculture, and roofing are at increased risk for illness and injury when exposed to wildfire smoke. Workers may experience reduced lung function, aggravated asthma, heart failure, and early death.
L&I will conduct several public hearings in July and comments on the proposed rule will be accepted through August 4.
This article was written by Carmen King of J. J. Keller & Associates, Inc.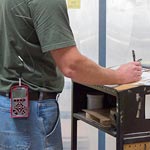 Looking for more on workplace safety?
Get the information and products you need to stay on top of industry changes and comply with regs.