OSHA case finds lawn service contractor ignored safety requirements
Posted May 12, 2023
With the start of lawn-care season, a recent OSHA case highlights some of the risks involved. The Agency found a lawn service contractor operating in Kentucky ignored safety requirements to save time. This included removing safety guards on industrial lawnmowers.
OSHA determined the contractor deliberately allowed workers to operate zero-turn radius mowers without belt guards installed. Inspectors found the contractor committed the following serious violations:
Exposing employees to potential lacerations/serious eye injury by permitting workers to operate mowers with shoot guards in a tied-up position.
Allowing workers to operate a tractor without a cover on the power take-off or PTO shaft.
Putting workers at risk of crushing injuries or death in a rollover by allowing employees to operate zero-turn mowers on slopes steeper than 15 degrees.
Exposing employees to potential lacerations by allowing unsafe operation of a bench grinder.
OSHA Area Office Director William Cochran said, "Violations like those found in this inspection show the company's disregard for their workers' safety, and their failure to follow established safety standards needlessly exposed workers to potentially dangerous and fatal hazards."
Following its inspection, OSHA proposed $198K in penalties.
This article was written by Carmen King of J. J. Keller & Associates, Inc.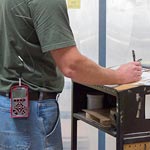 Looking for more on workplace safety?
Get the information and products you need to stay on top of industry changes and comply with regs.