National Stand-Down to Prevent Falls in Construction takes place May 1-5
Posted May 1, 2023
Though construction workers are at risk for injuries from many sources, falls continue to be the leading cause of death of all construction fatalities. The 10th annual National Safety Stand-Down to prevent falls in construction, held May 1-5, helps raise awareness that falls are preventable.
This nationwide event is part of the National Campaign to Prevent Falls in Construction organized by OSHA, NIOSH, and the Center for Construction Research and Training (CPWR) to raise awareness of slip, trip, and fall hazards and prevent fall injuries and fatalities. Safety stand-downs are voluntary events that allow employers to educate their employees about safety, and companies that participate in this year's event can receive an OSHA Certificate of Participation.
Employers who host annual Safety Stand-Down events at their workplaces have the opportunity to conduct both new and refresher training and offer a safe space for workers to ask questions. Companies can conduct a Safety Stand-Down by taking a break to have a toolbox talk or other safety activities such as conducting safety equipment inspections, engaging in fall protection demonstrations or harness fit testing, developing rescue plans, and discussing jobsite specific hazards.
This year's safety stand-down event can help employers, frontline workers, and safety and health professionals learn how to prevent falls in construction.
This article was written by Carmen King of J. J. Keller & Associates, Inc.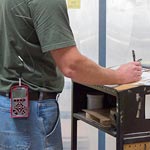 Looking for more on workplace safety?
Get the information and products you need to stay on top of industry changes and comply with regs.