DOT approves saliva-based drug testing
Posted May 1, 2023
Employers who are subject to U.S. Department of Transportation (DOT) drug testing rules will soon have the option of sending covered employees for an oral-fluid drug test.
New regulations go into effect June 1, 2023, to harmonize the DOT's Part 40 drug testing procedures with saliva testing guidelines established by the U.S. Department of Health and Human Services (HHS). Saliva testing was also added to rules from the Federal Motor Carrier Safety Administration (FMCSA) and other DOT agencies that require drug testing.
Despite the effective date, steps remain that prevent DOT-regulated employers from moving forward with oral-fluid drug testing. HHS needs to certify at least two laboratories for oral fluid testing, which has not yet been done.
Note that urine testing will remain an option for employers who do not wish to use oral-fluid testing.
Oral-fluid sample procedures
Unlike saliva testing used for DOT alcohol tests, the results of an oral-fluid drug test are not immediate.
Instead, a split sample of saliva is collected and sent to an HHS-certified lab for processing. A medical review officer (MRO) reviews the lab results and communicates the official result to the employer.
Advantages of oral specimens
DOT noted several advantages of using an oral-fluid specimen over a urine sample, including:
Potentially less expensive;
Detects more recent use, making it more advantageous for post-accident and reasonable suspicion tests;
Fewer opportunities to tamper with specimens; and
Less intrusive.
This article was written by Kathy Close of J. J. Keller & Associates, Inc.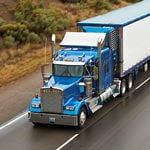 Looking for more on transportation safety?
Get the information and products you need to stay on top of industry changes and comply with regs.