Asking about salary off limits under proposed rule for federal employers
Posted May 12, 2023
A proposed rule would forbid federal agencies from asking some job applicants about how much money they make.
The rule, published in the Federal Register by the U.S. Office of Personnel Management (OPM) on May 11, would ban federal agencies from asking new hires in certain "pay systems" (i.e., job levels) about their salary history to help set their pay. Public comments must be received on or before June 12, 2023.
The term "salary history" here refers to the salary a job candidate:
Is currently receiving (i.e., their existing salary) or
Has been paid in a previous job (i.e., prior salary).
Pay equity
The proposed rule says that OPM is proposing these regulations to advance pay equity for federal employees. This is because setting pay based on an individual's salary history may maintain or exacerbate pay inequity a job candidate experienced in current or previous employment.
Federal agencies are required to post starting pay on competitive service job announcements, which helps with transparency.
This proposed regulation is another step that shows OPM taking action to address the treatment of a candidate's salary history when setting pay upon an employee's first appointment in the federal government.
Hiring process now (and maybe soon)
Currently, OPM's regulations do not require a federal job applicant to share salary history with an agency making a hiring or pay-setting decision.
However, agencies are allowed to request an applicant's salary history and apply it as a factor in setting initial pay in certain situations after determining that the candidate has superior qualifications or the agency has a special need for the candidate's services.
These proposed regulations change that policy. Under these regulations, agencies may not consider an applicant's salary history when setting pay for newly appointed federal employees in certain pay systems.
Agencies would need to consider other factors, such as how pay has been set for employees who had similar qualifications based on:
The level, type, or quality of the candidate's skills and competencies, or
Other qualities and experiences.
When setting pay based on prior federal salary for current employees, agencies would be required to have a policy that supports consistency in setting pay for employees.
State pay transparency laws
As of the date this Federal Register notice was published, 21 states have laws or executive orders that address whether and to what extent hiring employers may seek, use, or discuss an applicant's salary history. The provisions in the state laws and executive orders vary widely.
Most states, however, allow some exceptions to their salary history bans, including allowing an employer to set pay based on prior salary history if the applicant voluntarily discloses it. But these laws often impose additional restrictions, including, for example, only allowing an employer to rely on an applicant's voluntarily disclosed salary history if doing so does not create an unlawful pay differential.
What should employers do?
Employers should follow any requirements imposed by state law and watch for further developments from the federal government. This proposal only applies to federal employers, but if the concept garners support, it could be woven into a new law and more private employers might need to follow suit.
This article was written by Michelle Higgins of J. J. Keller & Associates, Inc.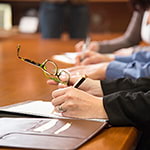 Looking for more on HR compliance?
Get the information and products you need to stay on top of industry changes and comply with regs.