FMCSA requests input on speed limiters
Posted May 6, 2022
The Federal Motor Carrier Safety Administration (FMCSA) is requesting public comment on the use of speed limiters on commercial motor vehicles (CMVs). FMCSA's supplemental notice of proposed rulemaking (SNPRM) requests comment on a dozen issues related to speed limiters, including:
The maximum speed that a carrier sets its limiters;
The percentage of a fleet's vehicles that use speed limiters; and
Whether smaller CMVs (between 10,001 and 26,000 pounds) should be included in a subsequent rulemaking.
The agency is considering requiring CMVs, equipped with an electronic engine control unit (ECU) capable of governing a CMV's maximum speed, be subject to a maximum speed.
The maximum speed would be determined by FMCSA.
The rule would only apply to CMVs manufactured after 2003. As of this date, ECUs were routinely installed on CMVs.
Controversial topic
This isn't the first time FMCSA has explored the use of speed limiters. In 2016, FMCSA and the National Highway Transportation Safety Administration (NHTSA) proposed regulations that would have required speed limiters, set to a determined speed, for vehicles with a gross vehicle weight rating (GVWR) of 26,001 pounds or more. At that time, over 2,000 comments for and against the proposal were submitted.
Today, six years later, this continues to be a hot topic. Those supporting speed limiters cite overall highway safety and fuel efficiency. Those opposing speed limiters cite the dangers of speed differentials and issues with safe passing.
What's next?
The issuance of the SNPRM, is the first step in what is expected to be a long regulatory process, was published in the May 4, 2022, Federal Register. FMCSA is accepting comment until July 18, 2022.
This article was written by Jill Schultz of J. J. Keller & Associates, Inc.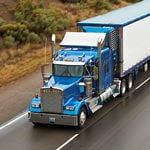 Looking for more on transportation safety?
Get the information and products you need to stay on top of industry changes and comply with regs.