The President wants paid leave; does Congress?
Posted May 7, 2021
If you search for "paid leave," you will undoubtedly see results that point to how the U.S. is the only advanced country that does not entitle employees to paid leave. Many U.S. employers, however, prefer to give employees leave that suits their workforce needs, as opposed to having the government dictate the leave. The pandemic heightened the focus on paid leave, in part through the paid leave under the Families First Coronavirus Response Act. Under that law, employers with fewer than 500 employees were required to temporarily provide paid leave. Despite this, many employees, particularly women, left the workforce.
President Biden has long supported paid leave. Under his current proposal, the qualifying reasons for the up to 12 weeks of paid leave would include the following:
Bond with a new child,
Care for a seriously ill family member,
Deal with a family member's military deployment,
Sexual assault, stalking, or domestic violence,
Employee's own serious illness, or
Bereavement
The leave would phase in over 10 years, except for the three days of bereavement, which would be available the first year. Employees would receive up to $4,000 a month, with a minimum of two-thirds of average weekly wages replaced, rising to 80 percent for the lowest wage workers. The proposal does not explain this in any detail.
Given the $225 billion price tag, such a law could have a hard time getting through the Senate, even if it is introduced via the budget reconciliation process. If that does works, it could pass the Senate with a simple majority vote —no filibustering — greatly increasing the possibility of enactment.
The President also wants Congress to pass the Healthy Families Act, which would require employers to provide at least seven days of accrued paid sick leave per year for preventative care for them or their family.
Paid leave proposals are common, but perhaps their rising tide is now strong enough, due to recent events, that we see at least one cross the finish line.
This article was written by Darlene Clabault of J. J. Keller & Associates, Inc.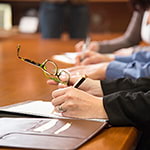 Looking for more on HR compliance?
Get the information and products you need to stay on top of industry changes and comply with regs.