New York creates industry-specific responses to COVID-19
Posted May 21, 2021
New York Governor Andrew Cuomo recently signed the Health and Essential Rights Act (HERO Act) into law, authorizing the state's labor commissioner, in consultation with the Department of Health, to create industry-specific airborne infectious disease exposure prevention standards in English and Spanish.
Employers may adopt the model standard relevant to their industry or create an alternative plan that equals or exceeds the minimum standards provided in the model. The law takes effect June 4, 2021.
The model standards must address:
Employee health screenings
Face coverings
Personal protective equipment (PPE)
Hand hygiene stations
Cleaning and disinfecting of shared equipment and frequently touched surfaces
Social distancing
Compliance with mandatory or precautionary isolation or quarantine orders
Engineering controls such as proper air flow and exhaust ventilation
Designation of one or more supervisory employees to enforce compliance with the exposure prevention plan
Employee notice requirements
Review of standards, policies, and employee rights
Employers with 10 or more employees also will be required to permit employees to create a joint employer-employee workplace safety committee. This provision takes effect November 1, 2021.
This article was written by Rachel Krubsack of J. J. Keller & Associates, Inc.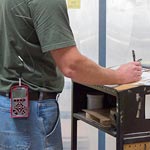 Looking for more on workplace safety?
Get the information and products you need to stay on top of industry changes and comply with regs.