OSHA revises forklift safety QuickCard
Posted May 1, 2019
OSHA has revised its Safe Forklift Operation QuickCard to include more tips for safe operation. The card describes ways to mitigate the risks associated with operating and working around forklifts. Hazards to employees include collisions, falls, tip-overs, and struck-by conditions.
In addition to guidance on safety training and forklift maintenance, the QuickCard offers basic forklift operator safety tips, including:
Always follow manufacturer's instructions for vehicle operation
Always wear a seatbelt when provided
Never exceed the rated load and make sure the load is stable and balanced
Do not raise or lower the load while traveling
Keep a safe distance from platform and ramp edges
Be aware of other vehicles in the work area
Have clear visibility of the work area when loading and operating a forklift
Use proper footing and the handhold to enter the lift
Use horns at cross aisles and obstructed areas
Watch for pedestrians and observe the speed limit
Do not give rides or use the forks to lift people
---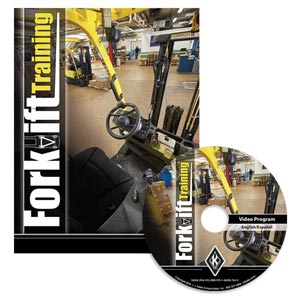 J. J. Keller's Forklift Training - DVD Training helps you meet OSHA forklift training requirements while keeping both operators and pedestrians around forklifts safe.
---
J. J. Keller's FREE Workplace SafetyClicks™ email newsletter brings quick-read safety and compliance news right to your email box.
Sign up to receive Workplace SafetyClicks™.