NIOSH provides update on Advanced Manufacturing initiative
Posted May 30, 2019
In January 2019, the National Institute for Occupational Safety and Health (NIOSH) created an initiative to investigate the potential worker health implications from exposures in Advanced Manufacturing (AM). According to NIOSH, AM uses innovative manufacturing technologies combined with both established and novel materials that have new and uncharacterized safety and health concerns.
NIOSH has been working with public and private partners to evaluate exposures from key advanced material and additive manufacturing processes that are already seeing broad application.
To date, the Agency's actions include:
Designing and fabricating an engineering control that reduced a widely used 3D printer model's emissions by >98 percent,
Publishing the first inhalation toxicology findings of microvascular dysfunction from exposure to 3D printer emissions,
Investigating and publishing worker exposure data from industrial-scale additive manufacturing showing release of ultrafine particulate and volatile organics into the workplace,
Visiting 10 additive manufacturing and 3D printer user sites to evaluate exposures, and
Contributing to the development of the first standard on emissions testing for 3D printers (UL 2904).
---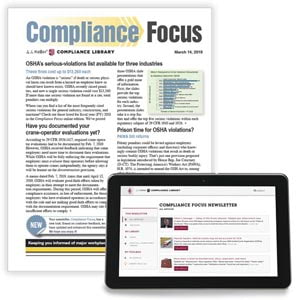 J. J. Keller's Compliance Focus Newsletter helps you stay on top of critical regulatory developments from: DOT, OSHA, EPA, DOL, MSHA, EEOC, DHS and other agencies.
---
J. J. Keller's FREE Workplace SafetyClicks™ email newsletter brings quick-read safety and compliance news right to your email box.
Sign up to receive Workplace SafetyClicks™.