OSHA cites employer for not addressing workplace violence
Posted May 4, 2018
OSHA cited a Florida behavioral health center for failing to protect employees from workplace violence. Proposed penalties totaled $71,137. While OSHA does not have a specific standard on workplace violence, the Agency can cite employers under the General Duty Clause, Section (5)(a)(1) of the Occupational Safety and Health Act, which requires employers to furnish employment and a place of employment free of recognized hazards that are causing or likely to cause death or serious physical harm.
OSHA inspected the facility after receiving a complaint that employees were not adequately protected from violent mental health patients. The Agency cited the employer for not instituting controls to prevent patients from attacking nurses, therapists, mental health technicians, and intake specialists. Threats included verbal and physical threats of assault, punches, kicks, scratches, bites, and the use of objects as weapons.
The company has 15 business days from the receipt of its citations and proposed penalties to comply, request an informal conference with OSHA's area director, or contest the findings before the independent Occupational Safety and Health Review Commission.
For each violation the company does not contest, it must take steps to fix the problem.
OSHA provided the following suggestions to the company on reducing the threat of workplace violence. The company should:
Consider reconfiguring nurses' workstations to include unlockable half doors to access the workstation; ensure patients cannot reach or jump over the desk; and ensure items on the workstations such as hole punchers, staplers, phones, cords, pens, computers, and other items are secured.
Develop and implement a disruptive behavior response team to respond to emergencies throughout each shift and maintain set staffing ratios. The program should include clean written procedures for how employees should respond to clients making threats, showing aggression, and assaults.
Collect and distribute information to staff on patients' violent behaviors to better prepare staff to respond appropriately to a violent incident.
Determine the necessary number of staff per shift and ensure security cameras are continuously monitored by trained security or in-house monitoring staff for all units.
Provide personal panic alarms to employees and discourage employees from wearing necklaces or lanyards. Employees should secure loose hair and avoid carrying pens, keys, or other items that could be used as weapons.
Provide medical and psychological counselling and debriefing for employees who experienced or witnessed workplace assaults or other violent incidents.
---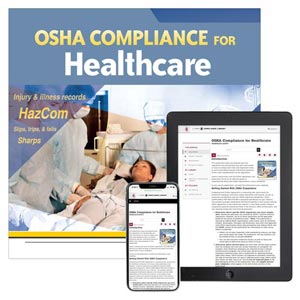 J. J. Keller's OSHA Compliance for Healthcare Manual serves as an effective reference for implementing safety and health requirements in your workplace.
---
J. J. Keller's FREE Workplace SafetyClicks™ email newsletter brings quick-read workplace safety and compliance news right to your email box.