Designation: There's no going back
Posted May 3, 2018
Rueben, the company leave administrator, was reviewing Adrienne's FMLA certification. She had been on leave for a few weeks already and based on his review, Rueben now had reason to question whether the reason for Adrienne's leave truly qualified for FMLA protections. Despite having already designated the absence as FMLA leave, Rueben wondered if he could retroactively rescind that designation. He knew he could retroactively designate leave in some circumstances, but wasn't sure about retroactive denial of FMLA leave. He began investigating.
Determining whether an employee meets the FMLA eligibility criteria and whether an absence will be designated as FMLA leave is not to be taken lightly. Generally, once you inform the employee that he or she is eligible, and that the absence is protected by the FMLA, you may not rescind those determinations.
A court did bear this out when an employee was informed that his intermittent leave for his wife's condition was approved as FMLA leave. As the employee continued to take days of leave, he was informed they were approved. He ended up requesting and receiving FMLA leave for approximately 130 days (FMLA leave generally lasts for 12 weeks – in some cases that equates to 60 working days).
Many months later, the employer informed the employee that it had mistakenly paid for his health insurance premiums past the 60th day of FMLA leave, and that he was responsible for repaying those health premiums. As a result, the employer began garnishing his wages until the premium payments were refunded.
This must not have pleased the employee, as he filed suit claiming that the employer interfered with his FMLA rights by denying him intermittent leave, by failing to provide notice that his FMLA leave was exhausted, and by requiring him to repay the premiums. The employer argued that the employee was not entitled to FMLA leave, that he never returned from that leave, and that it was not required to pay his health insurance premiums (so it could require the employee to pay them). In response, the employee indicated that he was entitled to continue his leave after the 60th day because the employer approved those additional days of FMLA leave and now could not retroactively rescind the FMLA protection.
The court ruled that the employer had represented to the employee that it had approved his FMLA leave based on the medical certification form. The approval of the request for FMLA leave is essentially an assertion that the employer was satisfied of the reason for leave. The employee detrimentally relied on that representation by taking absences, believing they were protected, and that the employer would cover his insurance premiums.
Further, the court pointed out that the employer could have requested more information concerning his wife's condition if it did not believe the doctor's certification was sufficient; the employer, however, failed to do so. Thus, it was reasonable for the employee to rely on the company's representation that it was satisfied of the qualifying reason. Accordingly, the employer was prohibited from asserting that the employee was not entitled to FMLA leave, even beyond the 60 days. It could not retroactively rescind the FMLA protections it basically promised.
Therefore, before you designate leave as FMLA leave, make sure the reason truly qualifies, because there's no going back.
Holder v. IL Department of Corrections and IL Department of Central Management Services, No. 12-1456, Seventh Circuit Court of Appeals, May 5, 2014
This article was written by Darlene M. Clabault of J. J. Keller & Associates, Inc.
---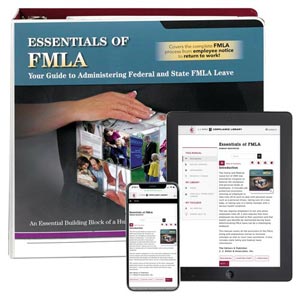 Learn more about products and services that provide you with confidential, consistent, high-quality leave management on our FMLA resource page.
---
J. J. Keller's FREE HRClicks™ email newsletter brings quick-read human resources-related news right to your email inbox.