Employers can take steps to detect FMLA leave abuse
Posted May 5, 2017
In June 2016, the Cook County Department of Corrections in Illinois had to lock down inmates because more than 300 corrections officers called in sick during Game 7 of the NBA Finals. Another employer saw spikes of leave when mixed martial arts competitions were televised.
Despite employers' best efforts to ferret out Family and Medical Leave Act (FMLA) leave abuse, some employees will try to find a way to use the potent FMLA entitlement to job protected leave for reasons that simply don't qualify. Some may even get a certification for a dubious medical condition so they may have such time off.
Second opinions, certifications, recertifications, and periodic status reports are all useful tools in the battle against abuse, but others are available. You don't have to be Sherlock Holmes to catch culprits who are abusing FMLA protections. Actions you can take to help detect such abuse include the following:
Perform an internal FMLA audit to ferret out details such as the reasons for leave, the communication/records, and others. Look for the possibility of going beyond what is required.
If an employee takes vacation the same time every year, and is turned down, only to ask for FMLA leave for that same period, you may want to be on the lookout to make sure the reason for leave really qualifies. You may also want to be aware of any "events" occurring at that time.
Watch for patterns of absence, such as those occurring predominately on Fridays or Mondays (or both), or before and after a holiday. Such patterns could be a sign that an employee is looking to stretch out a weekend or holiday.
If an employee has a condition or reasons that require exactly 12 weeks of job-protected leave, this may mean that the employee knows just how long the FMLA protections last, and you may want to ensure the reason for leave qualifies.
If, during a discussion about an employee's excessive absences, the employee claims that a past absence should have been protected by the FMLA, the employee may simply be trying to avoid any discipline that may result from such absences. Review the facts.
If you suspect abuse, investigate. Talk to the employee in question. Often, such heightened attention will call the employee's bluff. If you have exhausted other tools and still have an honest belief that an employee's reason for leave does not qualify, you may want to use surveillance. If you do, stick to neutral, third-party professionals for this task. They can provide objective information, and you won't put company employees in the middle of a "he said, he said" debate.
If leave is intermittent, and an employee's certification indicates that he or she will be absent for two days per month and the employee is absent for six, it's time for a recertification. The employee may think that the certification provides for an unlimited amount of days off.
Listen to what other employees are saying about someone who is on leave. There have been cases where coworkers have provided information about employees who were supposed to be out on leave, but the coworker saw the employee doing something contradictory to his or her certified reason for leave.
Train managers and supervisors to be on the lookout for potential abuse. They are on the front lines and are witnesses to clues.
Most employees won't be looking to abuse their FMLA protections, but every now and then, one may try. Staying on top of the ones who do will likely send a message to others who may be considering such shenanigans, that it may not be worthwhile.
---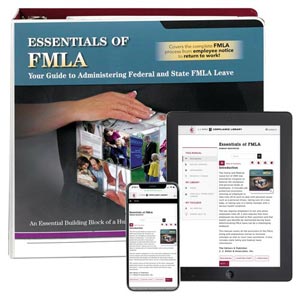 Learn more about products and services that provide you with confidential, consistent, high-quality leave management on our FMLA resource page.
---
J. J. Keller's FREE HRClicks™ email newsletter brings quick-read human resources-related news right to your email inbox.