Don't be afraid to overcommunicate employee FMLA rights
Posted May 25, 2017
The Family and Medical Leave Act (FMLA) requires a lot of communication (some of it through notices) and can be fraught with opportunities for missteps. In the designation notice, for example, you need to indicate how much leave will be counted as FMLA leave, if you have that information. If you don't have that information, you need to inform employees how much leave has been used, when employees ask. Employees might be able to have a bit of a blanket request for such information.
Case in point
An employee required surgery on her right knee. Her doctor advised her to take three to six months of leave. She was told that her leave was being designated as FMLA leave. She requested to be updated by a manager about her hours and how much leave she had left.
The employee took the leave (it was not intermittent or reduced schedule), and two months later she told her supervisor that she was doing better, and reiterated that her time off would be one to four months more — the full three to six months as she originally requested. During that call, the supervisor did not mention how much FMLA leave the employee had remaining, despite the employee's previous request to be updated. The employee was also not informed that she would be terminated if she did not return to work by a certain date — like after exhausting 12 weeks of FMLA leave.
When the employee exhausted her 12 weeks of FMLA leave, she was terminated without notice or warning.
The employee sued, arguing that if she had been notified that her FMLA leave was exhausted, she would have tried to return to work, perhaps with a brace. The employee claimed that failure to notify her of the amount of leave remaining before terminating her interfered with her FMLA rights.
The employer argued that the amount of leave the employee needed was unknown (was it three months or six months?), and that the employee never made any requests that triggered its notification duty.
The court sided with the employee. It indicated that, because the employer never notified the employee that she was close to exhausting or already had exhausted her FMLA leave, it violated the FMLA notice requirement. The court saw the employer as being "suspiciously noncommunicative."
Interestingly, the employee provided an up-front, blanket request to be updated about how much leave she had left. The regulations, on the other hand, indicate that employers must provide that information only when the amount isn't known (which this employer argued), and then only every 30 days upon the employee's request. The employer failed to indicate how much leave would be counted against her FMLA entitlement, arguing that it wasn't known. But three to six months is not an "unknown" value. Had the employer indicated in the designation notice that 12 weeks would be counted against the employee's FMLA leave entitlement, it might not have needed to defend its actions.
Many employers remind employees how much leave they have left when they are getting close to exhausting their 12 weeks, regardless of whether they knew, at the beginning of leave, how much leave was going to be counted. They may do so even if employees asked about their leave taken as time went by. An extra bit of information, particularly about the exhaustion of FMLA leave, can go a long way in helping employees manage their situations, and helping employers steer clear of court rooms.
Dusik v. Lutheran Child & Family Services of Illinois; ND Ill, Eastern Division; No. 16 CV 10812; April 24, 2017
Another recent case also described the risks of not providing leave usage information — see Employers must provide employees with FMLA eligibility information. These cases showcase the importance of not remaining silent.
This article was written by Darlene Clabault of J. J. Keller & Associates, Inc.
---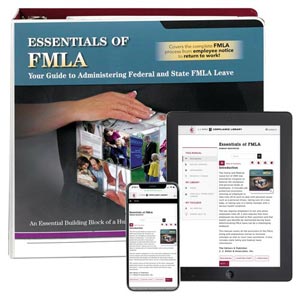 Learn more about products and services that provide you with confidential, consistent, high-quality leave management on our FMLA resource page.
---
J. J. Keller's FREE HRClicks™ email newsletter brings quick-read human resources-related news right to your email inbox.