OSHA seeks public comments on modernizing its VPP
Posted April 7, 2023
OSHA's Voluntary Protection Program (VPP) recognizes workplaces that demonstrate best practices in safety and health management and serve as industry models. The agency now seeks to modernize and improve the VPP by opening the program to public comments.
The VPP has attracted a wide variety of organizations from different industries in the last 40 years, and because of its success, OSHA's resources have been stretched, making it more difficult to ensure the quality of program applicants' safety and health management systems.
The VPP's modernization project seeks stakeholder input on issues that will help the agency:
Align the program more closely with recent occupational safety and health management practices and system standards;
Expand the use and effectiveness of safety and health management systems;
Identify how resources and tools such as "special government employees," consensus standards, third-party auditors, and other methods can serve to expand the program's capacity without compromising effectiveness and oversight; and
Determine whether particular categories of hazards need special attention in the VPP certification process.
OSHA requests comments by April 14, 2023, on a series of questions in 10 sections to elicit useful responses to support the project's aims. Interested parties should submit comments, identified by Docket No. OSHA-2022-0012, at regulations.gov.
This article was written by Carmen King of J. J. Keller & Associates, Inc.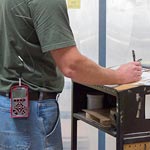 Looking for more on workplace safety?
Get the information and products you need to stay on top of industry changes and comply with regs.