DOT moving forward with side underride guards
Posted April 21, 2023
The National Highway Traffic Safety Administration (NHTSA) is taking major steps toward deciding if all new trailers and semitrailers should be equipped with side underride guards.
The agency has named 16 members to a new Advisory Committee on Underride Protection and is seeking public comment on the estimated costs and benefits of requiring side underride guards. Such guards are designed to absorb energy and prevent passenger vehicles from sliding under a trailer in a crash.
The agency estimates that a new mandate for side underride guards would:
Save 17 lives and prevent 69 serious injuries every year;
Cost up to $1.2 billion annually, including up to $4,600 added to the cost of each new trailer;
Apply to 260,000 new trailers per year; and
Add about 450 to 800 pounds per trailer.
The new advisory committee will make recommendations to NHTSA on how to proceed. The committee includes members representing law enforcement, the trucking industry, manufacturers, the insurance industry, crash victims, labor, and others.
"The selection and establishment of this committee is a step forward in saving lives and fulfilling the goals of the Bipartisan Infrastructure Law," said NHTSA Deputy Administrator Sophie Shulman. "This committee will inform future actions and ensure that key stakeholders have a seat at the table on this important issue."
NHTSA noted that its cost estimates don't include incremental wear and tear on trailers and the fact that the guards could strike or entangle with road structures and loading area components, restrict the positioning of rear axles, affect loading operations and freight capacity, and make trailer inspections more difficult.
The agency will soon be publishing an Advance Notice of Proposed Rulemaking and asking for public input to "help the agency assess and make judgments on the benefits, costs, and other impacts of requiring side underride guards." Once the notice is published, the public will have 60 days to submit comments at www.regulations.gov under docket number NHTSA-2023-0012.
This article was written by Daren Hansen of J. J. Keller & Associates, Inc.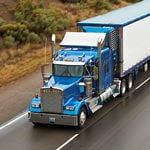 Looking for more on transportation safety?
Get the information and products you need to stay on top of industry changes and comply with regs.